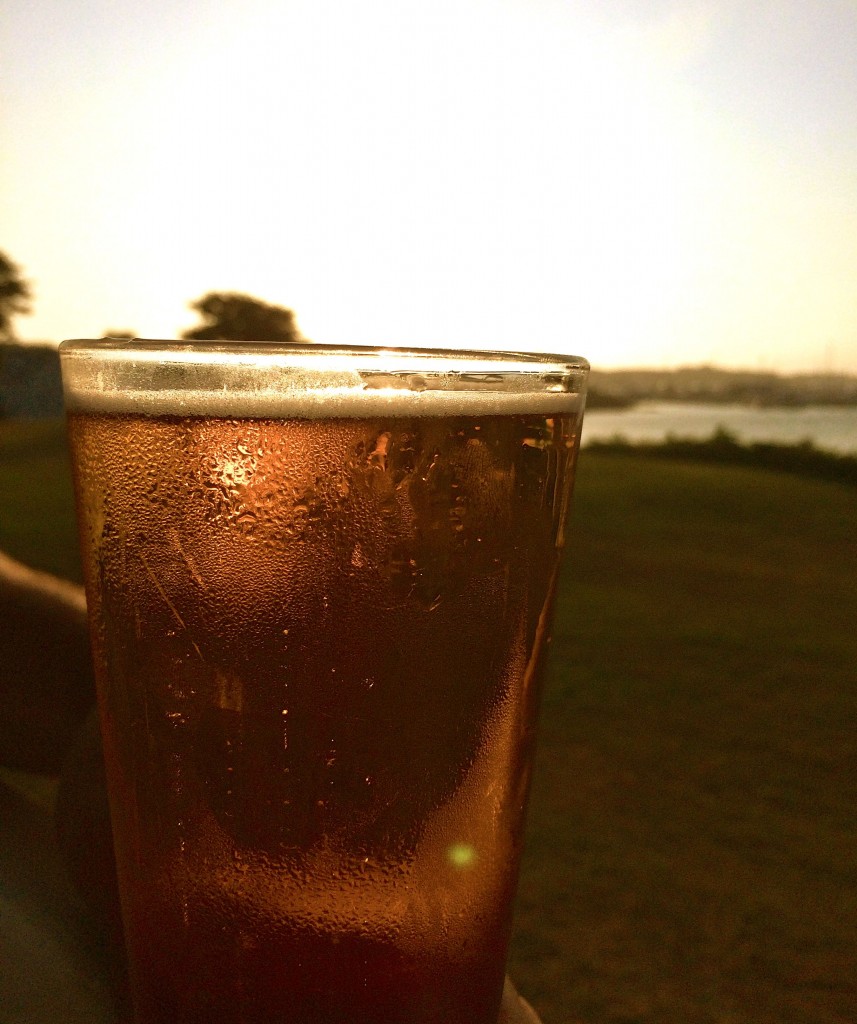 by Lisa Bassi
Before we get to the beer, I should give you a little background.
Along with a friend of mine, I teach a chair-yoga class every week at the local senior center. We have had up to 20 students in our group — all of them are over 80 and four are well over 90. They are as engaged and committed as any group of students I teach. They are all increasing in strength, breathing ability and flexibility. Some of them struggle with certain motions, some aren't too sure of right and left, and some can't always hear us describe the poses, but they make do, helping each other out with an occasional "The other left, Madge," or "Pick up your foot, Nancy."
One of our students, Estelle, is the mother of my friend and co-teacher, Lee. Estelle is one of the students who is struggling with cognition and getting a bit frail, but her smile lights up the room. She encourages other students and always tells us how great each class was.
Lee is her primary caregiver, seeing to Estelle's every need: three meals a day, housekeeping and everything else. Lee left a high-paying job to come home and take care of her mom. She now puts two or three part-time jobs together to be able to live in this area and do what she can to make her mom's life healthy and happy.  And Lee was the troublemaker who started the whole chair-yoga idea.
To make a long story short, Lee was finally going on vacation, but her mom didn't want to miss class. So I offered to pick her up on my way to the senior center. Estelle was dressed and ready to go when I pulled up 10 minutes early (I have come to learn that our elders are often early). And she was so grateful to be going to class — it made me happy to be helping out.
It was a beautiful day with bright sun, blue skies and puffy clouds, and the mountains were a deep vibrant green. When we finished class, I asked Estelle if she wanted to go home or maybe take a ride? Definitely a ride, she said. I used to tease her about going for a beer after class, so I suggested we go for one now.  She smiled her million-megawatt smile and said, "Let's go!" It was almost 4 pm and we were both certainly old enough, so we took a road up the mountain to a restaurant with a beautiful view. Estelle couldn't make the stairs to the observation deck, but the waitress let us sit early at a little table at street level.
Estelle began to tell me stories of her childhood growing up in a French Canadian family. Her father was a millwright — part of the history of our once-thriving mill town.  She said that he used to bring family visitors from Canada to this very spot and drink Canadian beer. She said that he was surely smiling down on her as she ordered a Canadian beer.
She enjoyed the view, so aware of the beauty, the treat of a cold beer on a warm day, and the fun we were having by doing something completely outside her routine.  She mentioned that she has a lot of family members checking on her all the time, and I told her she was lucky to have so many people who love her. She agreed, and solemnly told me that love is the most important thing in life.
I felt blessed and happy to be in her presence. I felt a real kinship with Estelle, as we both love the area we live in and appreciate the seasons and the gorgeous vistas. I enjoyed her smile, her stories (which she has probably told her family members many times), and her willingness to have an adventure. I enjoyed knowing more about my friend's heritage and the woman who raised her.
So often, as caregivers, we get in the mode of doing everything ourselves. We are so focused on getting everything done that we hesitate to impose on other people. We fear that it will be a burden. Lee, for example, thought I was doing her a huge favor by taking her mom to class, but, really, I was having a great time. Had Lee not been willing to ask for a tiny bit of help, I never would have had the joy of this day.
I do not know Estelle well, and I did not know her when she was young and strong and knew for sure what day it was. I am not frightened by her increasing frailty or grieving the shortness of her remaining days, as her loved ones may be. I am free to simply enjoy her as she is today. To hear her stories for the first time and appreciate their lessons. So, if you can, find a friend who is willing to have an adventure with your elderly loved one. Take a break. Share the love.
After all, it is the most important thing.
Lisa Bassi is a yoga instructor and former insurance executive living in North Adams, MA.
We are happy to re-post this special blog from July of 2014.