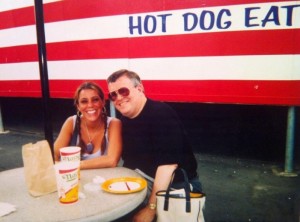 by Rebeka Burr
There's a full moon shining.
Shining in on me.
Daddy, push that cloud away and hand me down the key.
I want to come visit you.
I promise not to stay.
As long as the moon is shining, you're only a portal away.
People always say that our deceased loved ones are alive in our hearts.  I do believe this is true.  However, our loved ones are also with us in spirit.  By maintaining their traditions and remembering the things they loved, we offer a gateway between this life and what lies beyond.  My dad loved the moon, especially whenever it was full.  Every month since his passing — and quite possibly for the rest of my life — I will anticipate the full moon each and every month.  In the light of the moon's beautiful glow, I feel Dad looking down on me. In these moments, he is with me.  Although I am still healing, these moments offer me the simple promise of peace.
In the months that followed my father's passing, I began to cope in my own way. I found that talking about my dad really helped.  I think of him about 30 times a day.  I talk about him all the time and have developed my own traditions for keeping his memory alive.  By doing these things, I feel him all around me.  For example, my father was a BIG hot dog fan.  He always said that when he retired he wanted to buy an Oscar Mayer Weiner Mobile and drive across country.  Needless to say, he never fulfilled that dream, but that didn't stop him from eating hot dogs every chance he got.  On days when I find myself really missing my dad, I grab a hot dog for lunch or dinner and imagine that he is there with me.  It is in these moments that I really feel him.
My father always prided himself on the fact that he was rarely ever sick.  He owned and operated a grocery store, putting in 14 hour days, seven days a week. Then, in May 2011, he was diagnosed with kidney cancer.  Dad's first trip to the hospital offered a small measure of success when he was released in just a week. Until the next hospital visit, we all clung to the hope that he would get better.  But then we learned that the cancer had also spread to his lungs and bones.  I remember thinking to myself at that point, "The cancer got you, Dad, and it got you good."  His illness was like a whirlwind.  There was change after change after change, and then it all suddenly stopped. By October, six months after his diagnosis, my father was dead.
Seeing a man of his stature and joyful demeanor dwindle away was crushing. My entire family was jolted by his rapidly weakening state.  Now, as we pass the six-month anniversary of his death, the memories of his suffering are still vivid in my mind and I struggle everyday with the process of healing, trying to resurrect my life.  Dad's accelerated decline, his suffering at the end, and, finally, his passing were hard enough to watch and share, but I was never prepared to face the even harder road ahead of me — getting back to living. Returning to everyday activities after my father's death was a challenge unlike any I have ever encountered.
It's very hard to handle stress when you're in an ever-worsening situation. Chances are you are not even fully aware of the toll that it's taking on your emotional spirit and your physical body.  For six months, my mother, sister and I were running on fumes.  We did as much as we could to be present and to be with him, but looking back now, I honestly don't know how we ever coped with it all.  One day Dad was here and the next day he was gone.  It became that simple.
As humans we get used to the consistency of life.  We may strive for better things and changes, but when the changes actually happen, it takes some time for our physical body and mind to catch up.  It takes time for us to accept the fact that our loved one is gone and that the dust has settled.  And even though my dad's illness was such a torment to endure, I find myself wishing I could just have one more day.  Death forces us to move on, but during the healing process, we often experience some hesitation in moving forward, both physically and mentally.  There are still times that I think to myself, "I have to call Dad and tell him about . . . ."  Sometimes I still expect to see him pull up the driveway in his golf cart.  It's like I am waiting for him to materialize before me at any given moment.  I think of him everyday, and I know he's gone, but my body and my mind have yet to fully accept that fact.  Being in this static place of disbelief might just last a while.  I'm not going to rush it or force it — I have found that it's very important not to judge the moment or the process.  It is more important to be in the present and to be in it fully.
So in my own special way, and in my own time, I have come up with different ways to continue to keep my dad alive.  Remembering the good times and the bad times is painful but critical to the process of renewal and growth that happens after loss.  Personally, I know that I am not healed.  I have not yet moved on.  The place of healing is a precious place to be.  In our healing it is possible that we are even closer to our loved ones than we might think.
But I'm not quite there yet.
Rebeka Burr lives and works in New York City.