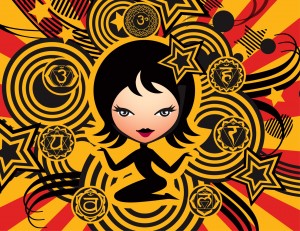 by Karen Keller Capuciati
Perhaps you've seen our previous blogs on meditation What Is This Meditation Thing All About Anyway? and Meditation For Health in this space.  Well, as part of In Care of Dad's continuing commitment to the topic, today we're sharing what some of our readers like to listen to when they meditate.
While most of us believe that meditation would likely be beneficial if we only knew how to get started, the truth is, we just need to jump in and actually do it.
Listening to a meditation CD is a great first step in that direction.
We polled some of our In Care of Dad friends to find out about their favorite CDs for meditation.  Though my own response to the question  would be guided-meditation CDs, like Thicht Nat Hahn's Plum Village Meditations or Don Kollmar's Coming Home to Self, I was delighted by the eye-opening range of choices delivered by some of our readers — everything from chants and music to the sounds of nature.  I hadn't really considered the notion of listening to a beautiful piece of music for meditation, but I absolutely love the idea!
Check out some of these responses and see what sounds good to you.
"I listened endlessly to ancient Hindu chants during my 8-hour surgery.  I made sure that these chants Om Namah Shivaya and Shri Guru Gita continued through the entire surgical procedure.  There are many Om Namah Shivaya chants available, I recommend the CDs with either Bhupali Raga or Shiva Bhairav or Bhimpalasi Raga."  — Christine Sherwood
"On a classical side, I recommend Baroque Adagios, a compilation of some of the best-known and well-loved adagio movements from the Baroque period.  Classical compilation albums are so often full of recordings that make a classically trained musician roll his/her eyes (lack of musicality, uninspiring and sterile performances), but these recordings are top-notch by some of the absolute best musicians in the world.  The recording of 'Ombra mai fu' (an aria from Handel's opera Serse) is pure perfection."  — Katharine Gibson Stickevers
"I am a big fan of Enya's album Amarantine.  I also love four albums by George Winston. He has a Winter Into Spring, Autumn, December and Summer albums that I find simply inspirational and uplifting.  It's all piano solos."  — Becky Burr
"Go to Omstream.com, click on 'meditation music,' scroll down to Rashid Lanie's CD titled CO-Creation. It is amazing!!!"  — Margaret Killip
"Most anything by a musician/composer named Deuter, but, in particular, I like the Reiki Hands of Light album; I use it in my Reiki sessions all the time."  — Katharine Gibson Stickevers
"Marcus Knudsen created sound waves that are reflective of the golden ratio principal to bring you into a meditative state.  All of his meditations are great.  Try his Xphirience CD or Xphirience Blissful Rain.  You can find them on Xphirience.com."  — Peter Capuciati
"Transform, Relax & Rejuvenate, a deeply restorative relaxation by Vandita Kate Marchisello and Mark Kelso.  This CD has helped me immensely in challenging times, such as my father's knee replacement surgery that had complications and my aunt"s major surgery and death.
"Vandita offers a lovely 40-minute guided relaxation with a Ram lullaby.  The last track on the CD is 20 minutes of just soothing lullaby.  That alone has comforted me on many a sleepless night.  I put my iPhone on repeat and drop into a deep meditation if not sleep, so I'm calm and functional in the morning.  God bless you, Vandita!
"For exploring other guided meditations, anything by Sudir Jonathan Foust and/or Todd Norian is wonderful, too.  I have learned a lot about leading guided meditations from both of these inspiring teachers.  Their meditation CDs are great, as are their music CDs.  Kripalu.org site will offer their CDs, as will iTunes and Amazon."  — Ann Russell
Most of the CDs mentioned here can be found on Amazon.com.  There you can also read reviews, where available.  I was also able to find most of these CDs at the iTunes store, where you can listen to a sample of the music before making any purchases.
If you have any other favorite meditation CDs, please relate them in the comments section below.  I, for one, am thrilled by the spectrum of choices here, and I can't wait to try some of them out.
Namaste!