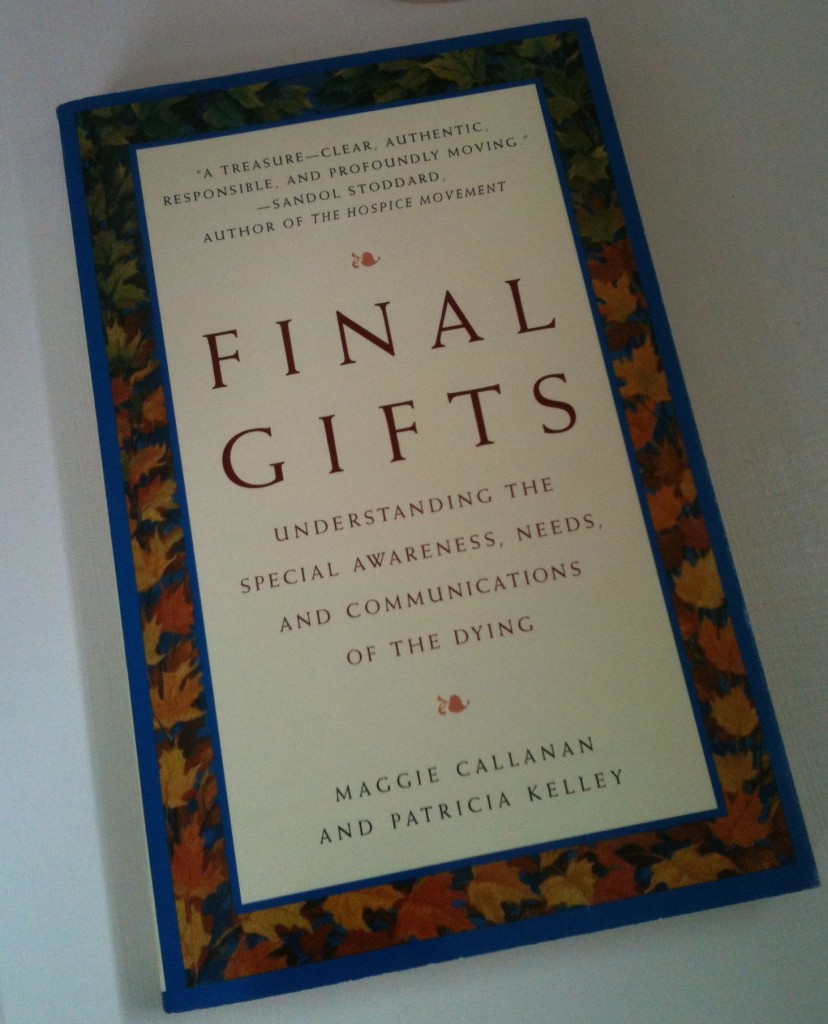 by Kim Keller
I can still hear my father's voice pleading with me,   "Kim, pull the car around! I've gotta go!"  His frustration was palpable as he kept saying this over and over to me.   He was deliriously sick, and you could just feel his struggle.  He was in the hospital, which is where he'd been spending a great deal of time, and I thought, of course, that he was desperately trying to break out of the hospital and get back home.  Not that I could blame him, but he was so sick that the idea of leaving the hospital was simply unthinkable.  I had no idea that he was really trying to tell me something entirely different.  Then a couple of weeks later, my dad died.  And it wasn't until a year later, while I was reading an amazing book called Final Gifts, that I finally understood what he was so urgently trying to say — I'm dying, Kim.

Final Gifts is one of the most fascinating and important books I've ever read.  It's about the journey of dying.  This insightful book was written by two hospice nurses, Maggie Callanan and Patricia Kelley, who introduce us to the unique way people communicate their imminent deaths.  Usually in symbolic language, the dying will tell us when their time is near, or some will ask for help to facilitate a peaceful journey.  According to Callanan and Kelley, the most common way for the dying to explain the onset of death is to talk about taking a trip, like my dad did.  They understand what's happening to them, but they express the next stage as a journey using a familiar mode of transport.  The authors detail story after story of hospice patients who tell their families about their upcoming passages by saying, typically, they need to find their passports, or get in a ticket line, or find a map. Or like my dad, pull the car around.  Expressions of movement and change characterize the stories throughout.
Callanan and Kelley discovered that their hospice patients had many similar experiences.  A central phenomenon is what they call  "nearing death awareness," which shouldn't be confused with a "near-death experience."  They explain that nearing death awareness is when "the dying person remains inside the body, but at the same time becomes aware of a dimension that lies beyond. Rather than switching abruptly from one world to another, dying people apparently drift between the two."  In Final Gifts, the writers use anecdotes to illustrate the common patterns they witnessed among hospice patients.  Each and every story is special and teaches us how to be there — really be there — for someone who's dying.  It is our final gift.  There is no greater offering than making those last days peacefully meaningful.
What makes Final Gifts so exceptional is that it guides us through a critical time.  It helps us to be at our best to support someone we love during a time that is understood to be, and treated as, scary and uncertain.  We can be the bridge from fear and anxiety to peace and calm. Final Gifts instructs on how to pick up the cues, and effectively participate, whether it's just listening or helping a dying man unravel an unresolved issue.
My dad didn't want to leave this world without telling me that he needed to go — it was his time.  If I had understood what he was trying to say, then it might've brought my dad untold peace and comfort.  Instead, he finally said to me, "Kim, call the dispatcher. Tell him I'm gonna be late."
My dad hated being late.
Tags: emotional support for dying process, hospice, how to be there for someone who's dying, how to make the last days more peaceful, nearing death awareness