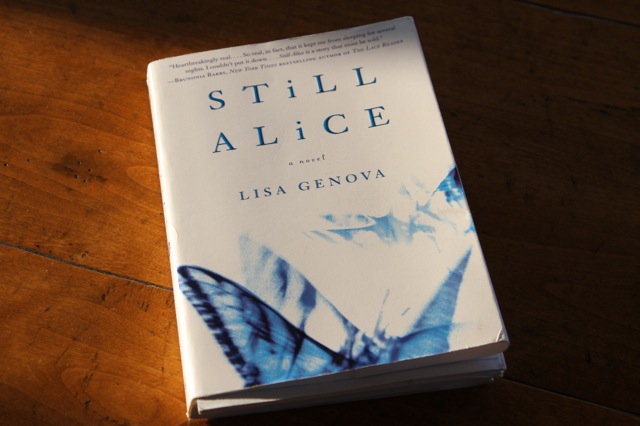 by Kim Keller
Every once in a while I read a book that I love so much I want to buy it for everyone I know.  Does that happen to you?  Well, that's how I felt when I finished reading Still Alice.  I just loved it!  And that, frankly, surprised me.  A book about Alzheimer's disease is one that I would expect to learn from but certainly not enjoy.  Turns out, this book is unforgettable.
Still Alice is a novel about a 50-year old woman who is diagnosed with early onset Alzheimer's disease.  Alice experiences what most of us do as we get older — we start to forget things.  Alice begins to wonder:  Is it just aging?  Stress?  Not enough sleep?  Menopause?  When Alice gets lost during a routine jog in her neighborhood, she recognizes there is something more going on and decides to see her doctor.  Alzheimer's was clearly not her first guess.
I became fast friends with Alice.  She took me by the hand and lead me down the dark and winding path into dementia.  It's a fascinating journey, and I found myself standing right alongside Alice, taking each and every neurological test, wishing I could do something to help her as her daily life became such a struggle.  Yes, I'm 50 and my forgetfulness can be unnerving at times — being able to tap into that emotion made Alice's descent even more terrifying.  But the dividing line between common forgetfulness and Alzheimer's disease became abundantly clear to me as I watched Alice sink deeper into the disease.  Spending time with Alice was both upsetting and mesmerizing.  Each day the challenges became greater — from getting lost in her own home to not recognizing her own children.  I was truly pained for my friend Alice.
Lisa Genova, the author of Still Alice, has a Ph.D. in neuroscience from Harvard.  Her decision to make her fictional Alice a Harvard professor of psychology and linguistics might tempt readers to think this is autobiographical.  But Genova was apparently motivated to write this book because her grandmother suffered from Alzheimer's, and Lisa simply utilized her writing talent, making the story more accessible by using familiar settings and themes.  Usually books about Alzheimer's are written in either a clinical way or from the point of view of the caregiver, but I think Lisa's decision to make this story a work of fiction was inspired and succeeds brilliantly.  She lets us feel what it's like to have the disease, and we learn, right along with Alice, her husband and three grown kids, what Alzheimer's is all about, how deeply it changes not just the sufferer but the entire world to which she's connected.
Still Alice is about more than the destruction of a mind.  It's a lesson in how to live life fully.  Alice taught me about bravery.  She taught me how to be a better friend.  As her yesterdays slipped away from her and her tomorrows became more uncertain, Alice taught me to never forget that life is here right now in this moment.