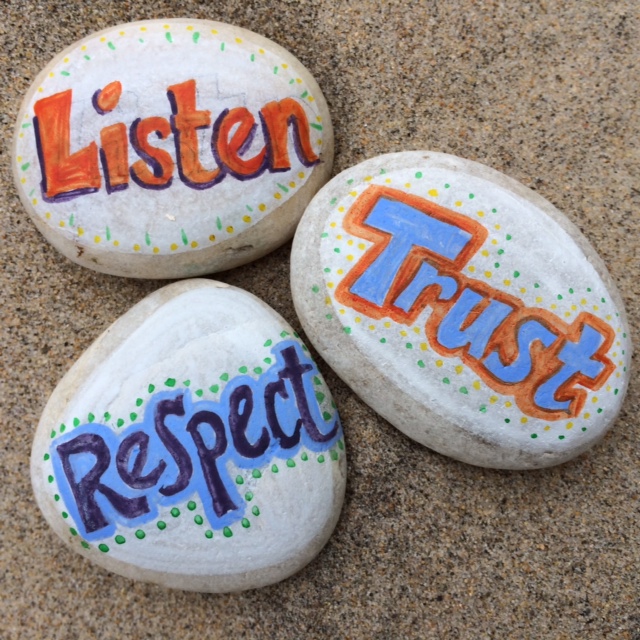 by Erin Doeberl
Caregiving is a challenge for any family — it can be an overwhelming and exhausting task. However, blended families (meaning families that include stepparents, stepchildren, half-brothers, half-sisters, etc.) face an even greater challenge.
Linny and Jack were married for 27 years before he died in August 2013. During this time, Jack's four grown children from a previous marriage became Linny's family as well. "I worked really hard at bringing the family together," Linny said. "Jack was the love of my life, and his kids obviously meant a lot to him. So I did whatever I could to make us all a family."
When Jack developed Alzheimer's, Linny was his primary caregiver, as his kids all lived out of state. As the disease progressed, his care demanded more than she could provide for him at home, even with hired help. "Jack was a big man, and I couldn't lift him if he fell," Linny explained. "I carefully chose an Alzheimer's Care facility for him to move into. It was a terribly painful and difficult choice for me, but I didn't see an alternative."
Jack's kids, though, were not happy with Linny's decision. They would visit once or twice a year and were devastated by what had become of their father. They questioned the facility and the quality of his care, and seemed to blame Linny for the tragedy that was in no way her fault. The kids suggested she move their father back into the house, but without offering to share in any of the caregiving responsibilities.
"They would go back to their own homes," Linny said, "and be comforted by their spouses. But I was alone through all of this. The man that had always comforted me was no longer able to. It was a very trying, lonely time for me. I tried to do the best I could."
Jack's children never managed to see the events from Linny's point of view. She was a convenient target for their anger and pain. "They haven't spoken with me since their father's memorial service," Linny lamented. "They blame me for every decision I had to make regarding his healthcare. They blame me for letting Jack die. They just didn't understand that what was happening to Jack couldn't be fixed, couldn't be changed. It was nobody's fault. It was just a horrible tragedy."
This story is not uncommon for blended families. One of the reasons this kind of breakdown occurs is the mistrust that results from a lack of relationship longevity. Because divorce and death play essential roles in the creation of blended families, the actual blending tends to happen later in life. Consequently, relationships among family members have less time to evolve. There are new people playing fundamental family roles in your life but you've only known them a relatively short time. While trust tends to be an inherent component of most lifelong relationships, the new relationships that characterize a blended family don't have the permanence or the constancy that allows trust to grow and flourish.
Why is this important?
Trust helps to create a feeling of safety within the family. Without safety, people feel unsure, worried, and even helpless, which can create a negative impact on one's ability to care for their aging or ill family member. It is important, not only for the aging family member, but also for the caregiver, to feel support and safety through these challenging times and when making important life decisions on their family member's behalf. Without trust, there is little communication as well, making the ultimate goal of caring for a loved one nearly impossible. Why add stress to an already stressful situation when there are solutions to help overcome it?
Here are some useful tips for meeting the various challenges of caregiving in a blended family:
Set clear expectations. It is important for people to express their expectations of one another within the family dynamic. For example, whose role is it to make medical decisions? Who should be involved in these decisions? What support can be given or expected from one another while mutually caregiving?
Listen openly. To get your own needs met, you must remember to listen to other people's needs as well. Listening to someone allows them the opportunity to have their desires heard and puts both parties in a position to make a decision together versus against one another. The more others feel heard, the more open they are to opposing or different viewpoints.
Share in your love for the family member. It can be helpful to share feelings and memories about the debilitated loved one in an attempt to understand one another's connection. Understanding and respecting the relationship that the other person has with the loved one can help to ease the dynamic of a blended family, particularly if there has been tumult or bitterness. Uniting through sharing promotes a sense of safety, understanding, support and compassion, all of which promote trust.
Show respect for differing opinions. While there may be discrepancies in caregiving approaches, it is important to respect the opinion or suggestion of another family member. If you can show respect, you are more likely to facilitate a conversation that will allow for some flexibility in the attitude of that family member.
Finally, remember why you are there. It is important to have the opportunity to reflect on the goal you have while caregiving. Spending this time disagreeing or arguing over the caregiving duties takes away from the positives of the experience. If this is an aging or ill family member, think about how you will want to look back on this time. Will you be happy if all you recall is fighting and arguments? This may be among the last few times you're able to show your love and affection for this aging person. Think of how you want that loved one to remember you!
Trust can be difficult to establish, particularly later in life and with new family members. However, utilizing these points can help you begin to deepen your trust in your new family relationships. While it may take time, energy and effort, it is an essential part of caregiving in a blended family. Establishing and nurturing trust creates open lines of communication and helps to meet the needs of all family members in the blended family dynamic.
If there's one thing Linny wished she had done more of, it was to be more upfront with Jack's kids in the beginning about the realities of what was happening to their father. "I spared them the details and difficulties of Alzheimer's, so the measures I had to take for his care might not have added up for them. That was my fault. I was trying to protect them from the suffering but instead I planted the seeds of distrust. I did not give them a basis for understanding the disease, and it came back to grieve me."
Erin Doeberl, LPC, is a therapist with Family Centers. Serving Greenwich, Stamford, Darien, New Canaan, CT, and Westchester County, NY, Family Centers is a United Way, New Canaan Community Foundation and Community Fund of Darien partner agency that offers counseling and support programs for children, adults and families. For information, call 203-869-4848 or visit www.familycenters.org.
Art by Karen Keller Capuciati