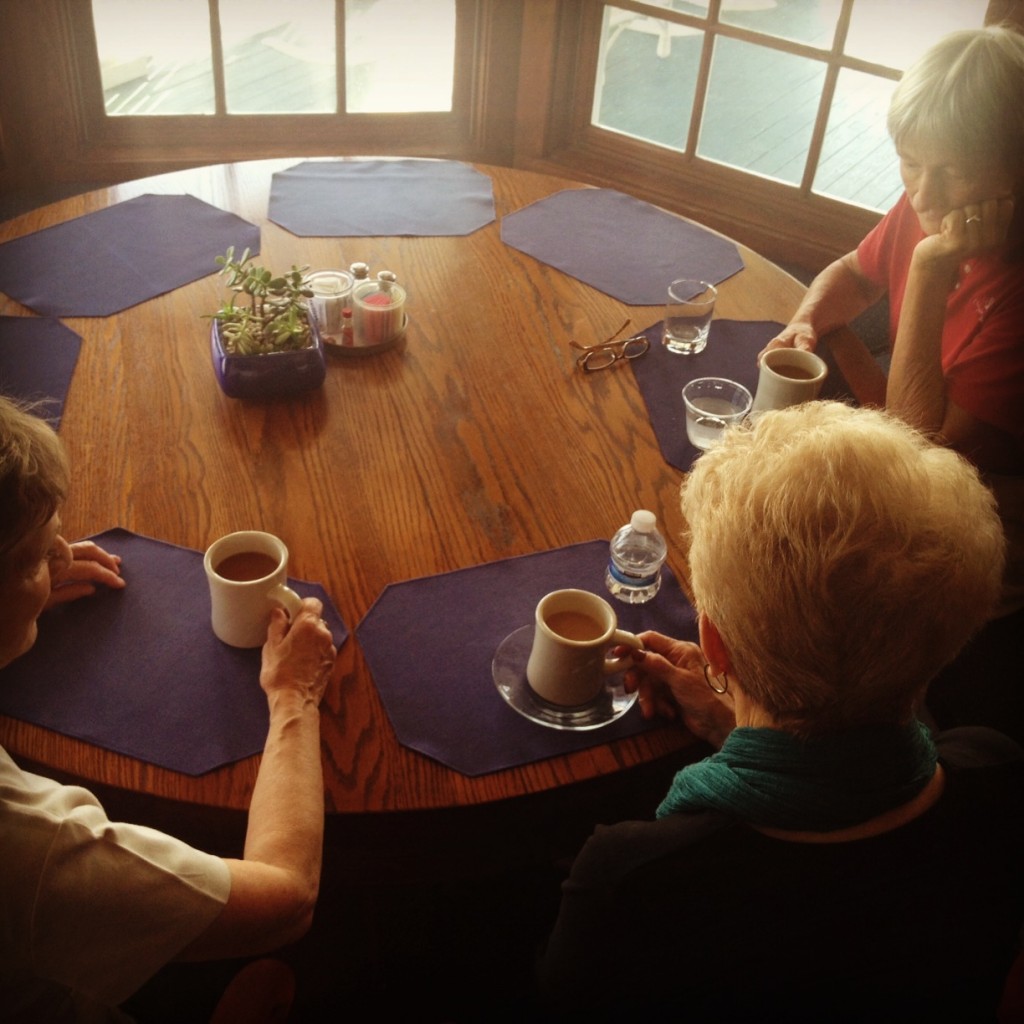 by Colleen Lanier
The look on the woman's face stopped me in my tracks.
I had just left the memory care unit after spending the morning with Joan, who had been like a second mother to me for more than 30 years. We had spent the morning dumping the contents of our purses onto a table and repacking them, which was one of her favorite activities. I had said my goodbyes and was hurrying down the hall, going through my mental to-do list for the day. As I passed by the refreshment area, I caught sight of the woman's expression.
I stopped, stole a second glance at her, and decided I had time for a cup of coffee.
The woman was sitting alone, a crumpled napkin and empty cup on the table in front of her. She was staring straight ahead, seemingly at nothing, her eyes showing resignation and her face a picture of sadness. She looked utterly hopeless, the slump of her shoulders suggesting she carried a heavy burden. I found myself wanting to comfort her.
I poured myself a cup of coffee, smiling at her. "Hi. How are you?"
She forced a tiny smile, answering with the standard "Fine, thanks. How are you?" She wasn't fine, of course, so after sitting at the table closest to hers, I tried again.
"I'm Colleen. I was just visiting in memory care. I haven't seen you before. Are you new here?"
She stuffed the napkin into the empty cup, probably getting ready to leave, so I tried one last time. "Forgive me for intruding," I said, "but you don't look fine. You look like you have the weight of the world on your shoulders. I've seen that look before. Is there anything I can do to help?"
There was a long pause as the woman looked at me, warily, opening her mouth a few times as if she were going to speak. She then stood up, threw her cup away, and poured herself a fresh cup of hot water. She took her time selecting a tea bag from the basket on the counter, finally breaking the silence while her back was turned to me.
"It isn't supposed to be this way."
I waited, sipping my coffee as she settled back into her chair. "You have a parent here?"
She nodded. "Mom has been here for a few weeks now. Dad died about four years ago, and I moved in with my mother to take care of her right after his funeral."
"It had to be difficult deciding to move her into assisted living," I offered. "It seems like the time comes for many people when they just can't keep their parent home safely anymore. It's hard to accept, though."
"I didn't have a choice," she started. "I hadn't slept through the night for years, I was afraid I would lose my job because I was often late or had to leave for one of Mom's appointments, and I just wanted to cry all the time. I thought I was going crazy."
I nodded. "Is it just you and your mother?"
Anger flared on her face, followed by a bitter smile that did not reach her eyes. "Not at all," she said. "I have two sisters and a brother who all live less than an hour away. They were all happy to tell me what I was doing wrong, but couldn't be bothered to help me. I had to beg for any little favor. I lived with her for four years and they couldn't give me a weekend off? They went on vacations every year, but I didn't deserve one?"
She paused just long enough to take a breath, her words rushing out like a flood. "How is it that I ended up doing everything alone? My mother lived here in Washington all her life, was active in church, helped anyone who needed it, and when she got Alzheimer's, the world forgot her. All of a sudden no one was around and I was on my own trying to take care of her. That's not how it's supposed to be. You live your life as a good person, and when you get older, you are surrounded by friends and family. Not only did her friends abandon her, though, but mine did too! I was trying to do the right thing, but ended up being totally alone. Where did everyone go?"
She stopped abruptly, tears streaming down her face."No one can do it all alone," I said. "It takes a village to care for someone with Alzheimer's disease. I understand what you are talking about."
"You do?" She looked skeptical. "You know what I'm talking about?"
"I really do," I replied. "My best friend's mother moved into memory care a few months ago. I helped him move his parents here from Wisconsin because they were going to need a lot of help, and he decided it made more sense to bring them here where he had a good job and lots of friends. His village was here. Things didn't go well, though. His father passed away just a week after getting here."
"Oh my God, that's awful. I'm sorry. My name is Ruth, by the way."
"Nice to meet you, Ruth. When my friend's father died, we ended up staying with her here in assisted living, because there were no beds in memory care and she needed constant supervision. We lived with her in assisted living for several weeks, and you know what?"
"What?" came a voice from the doorway.
Ruth and I both turned to find a third woman listening to our conversation. She looked a little embarrassed, but continued on. "I am sorry to eavesdrop, but your words could be coming out of my mouth. I took care of both my parents until they passed, and was almost always alone. Can I join you? I'm Sharon. I volunteer here, playing piano in the lobby."
"Have a seat," Ruth said, gesturing to the chair beside her, and Sharon joined us. She turned to me and asked, "What happened when you stayed here with your friend's mom?"
"No one came," I said. "We moved his parents here because he would have the support of his village, and when he needed them, no one came. We were a village of two."
Ruth and Sharon nodded in unison. "It sounds nuts, I know," Sharon began, "but when I was just trying to get through the day, my strongest support came from my hair stylist. I had been going to her for years, and she knew I was having a hard time. She told me if I could find someone to watch my father — my mom passed first — she would shampoo and style my hair for me before her shop opened on Saturday mornings. The first few times she shampooed me, it felt so good I cried. Nuts, I know, but just having someone show they cared got me through some terrible times. She never took a penny from me either. I tried to pay her, but she said it was her way of giving back for the kindness people had shown her. I brought cookies, or flowers from the garden, but she did that just to be nice."
At this point we were all tearing up. I turned to Ruth. "Did you have anyone at all who helped you when your mom was at home, or who helps you now?"
Ruth paused before answering. "Actually, yes. When Mom was still able to get out of the house, we used to go to a little family-run restaurant that had been open for years, a place I'd been going to with my parents since I was a kid. The owner knew she had Alzheimer's and had seen the changes in her as she got worse. One day he saw Mom watching a waitress rolling silverware. You know those napkin rolls with a knife, fork and spoon? He walked over to our table with a pile of silverware and napkins, and asked Mom if she could help out 'since it was busy.' Mom smiled and started sorting. When she was finished, the owner thanked her, took them to the counter, unrolled them and brought them back to our table. Mom was happy to be helping, and I was able to enjoy a second cup of coffee. As we left, I saw him taking the silverware back to be washed. He repeated this routine with Mom every time we came back. She loved to sort the pieces and roll them up, and I loved sitting down and eating a meal at a normal pace. He did that for more than a year before it finally got too hard to take Mom out anymore. I haven't been there for years now."
"Maybe it's time to go back," I said. "It would be nice to let them know how much that meant to you." I checked the clock and noticed that I only had fifteen minutes before my haircut. "I hate to run, but I have an appointment I have to get to. I'm glad I met you two, and hopefully we'll cross paths again. I try to visit every Wednesday."
Sharon shook my hand, saying, "I play here every Wednesday morning from 10 to 11. Maybe we can have a cup of coffee next week?"
"I'll be here," Ruth added, and she was. The following week we enjoyed coffee, donuts and conversation. Just like that, we had each added two people to our villages. We enjoyed Sharon's music, and it was rewarding to see Ruth get back out in the world after being isolated for so long. As for me, it was a reminder to start building my own village for the future.
When faced with the ever-present challenges of Alzheimer's disease, you build your village any way you can. Online pages, community support groups, church, hospice, volunteer organizations, local businesses, and, maybe, in the chair of your local beauty salon. Kindness can be found in the most unexpected of places.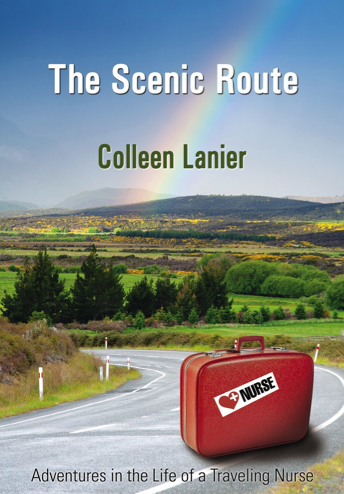 Colleen Lanier is a registered nurse with a private consulting firm, and the author of Miles from Home. Her new book, The Scenic Route, is about her lifelong journey through nursing: the laughter, tears, joy and pain that come with the choice of serving others. The books are available at colleenlanier.com.