by Karen Keller Capuciati
You may remember Christine Sherwood, author of the book, Help Me Remember Who I Am — Poetry of Healing.  In October 2011, she did a reading of her poetry at Lenny Foster's Living Light Gallery in her hometown of Taos, New Mexico, and had it videotaped in order to share it with In Care of Dad — thank you, Christine!
Help Me Remember Who I Am is rich with the inspirational verse that arose out of her struggle with rectal cancer in the years following her 2006 diagnosis.  Today we would like to offer another reading, this one is entitled, "Cancer Is Kali – Kali Is Cancer".
Kali, by the way, is a Hindu goddess of enlightenment and liberation, and I believe Christine's words speak very clearly to both of those topics.
Cancer Is Kali – Kali Is Cancer
What is there to say about a Goddess whose
Love is so complete that she would cut off your head so you could
Finally get the truth of who you are and what you are doing on this
Beautiful earth?
She doesn't hesitate at pain
She won't flinch an inch at your deep suffering
You can beg for your life as you know it to return and
Make promises that you could never humanly keep
She smiles back at you and although her eyes fill to the brim
To see you laid to the bottom of your tomb
She does not give way
Even if it has been years in the darkness
Time means nothing to her
Age means nothing to her
What she holds dearest is that you return to God
Her fearless love is the sweet call home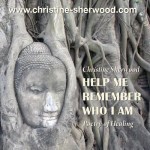 Click here to watch Christine read her poem "Breathe".  If you would like to purchase her book, you can order it online at www.christine-sherwood.com.