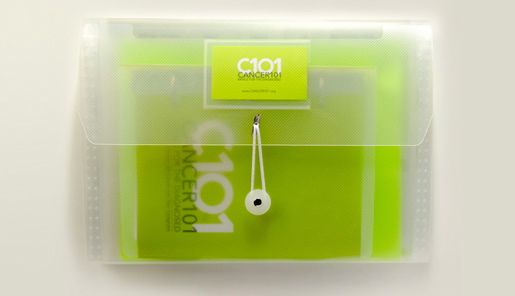 by Karen Keller Capuciati
One of our readers gave us a great tip about a helpful resource she uses to care for her 82-year-old father who has cancer.  She found a toolkit that has been "the greatest way to stay organized" throughout the process.
She's referring to the CANCER101 Planner. It's a three-ring binder designed to keep all your information organized and handy. It also provides information, advice and references.
The planner was created by Monica Knoll, who was a marketing director for a health club when she was diagnosed in October 2000 with breast cancer. She was overwhelmed and frustrated by the "strange new world of medical information and confusing terms." Sifting through such excessive amounts of information caused even more anxiety. So Monica created the planner after she completed her treatments in 2002. She had two goals in mind to help those with cancer and their caregivers:
First, Monica felt that if you are organized, you keep calm and focus on what is important.
In order to do this, the planner has the sections you would expect — notes, calendar, and address book — to keep the reams of information related to your cancer treatment all in one place. The thoughtfully organized planner is contained in a textured, pliable plastic that is both tasteful and practical. The 8"x10" binder is a good size to hold and can fit easily into a larger purse. The binder also has a section to track the status of medical bills and insurance coverage.
Importantly, there is a medical history section where you can document your cancer specifics once and make copies therefrom for the multiple times doctors and specialists will ask for the information. This section also includes pages to track symptoms, test results, treatments, medications and doctor's appointments. Since it is all laid out for you, it's easy and will no doubt be a tremendous help to you and your medical team along the way.
Secondly, Monica also wanted to help patients and caregivers become and remain well informed.
To serve this purpose, she sourced several organizations to provide reference material to include in the planner. For example, you can download (or call to receive) a National Cancer Institute booklet specific to your form of cancer, called "What You Need to Know About [your cancer type]." There are different booklets for 22 different types of cancer, each of which fits nicely into the three-ring binder.
The planner also includes a listing of good questions to ask your doctor, as sourced by Cancer.Net, and a dictionary of cancer terms devised by the National Cancer Institute.
Monica also compiled advice from other cancer patients, survivors and nurses. The tips fall into categories such as where to start; what to do when getting chemotherapy or radiation; and the dos and don'ts for family, caregivers and friends. This section offers solid and practical advice from those that have been down this road before you.
"Six years after my breast cancer and just when I was about to send the planner to the printer, I learned that I had a new primary cancer," Monica writes in the introduction. "This time it was ovarian. I grabbed a sample planner and ran to my first appointment . . . Having one place to find essential life-saving information made this experience far less emotionally taxing." As it turns out, Monica died from ovarian cancer in 2011, but her CANCER101 planner is in use in hundreds of cancer centers across the country and has successfully empowered thousands of cancer patients and their caregivers.
We at In Care of Dad believe in the value of organization and applaud Monica for creating this toolkit. Although many cancer centers and hospitals offer the C101 Planner for free, it can be purchased for $24.95 on cancer101.org. Navigating the treatment of and recovery from cancer is hard enough without the proper tools — make sure that anyone you know who is facing this formidable task is properly equipped.
Karen Keller Capuciati is the Co-Founder of In Care of Dad.