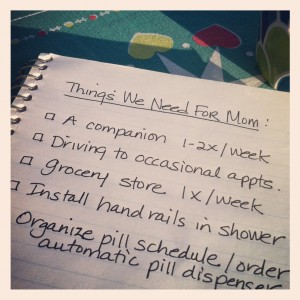 Second of a Four-Part Series on a Basic Approach to Caregiving
by Kim Keller
Caregiving is stressful! It's both emotionally and physically draining. To temper that "I'm overwhelmed" feeling, it's important to break tasks down into smaller, more manageable pieces.
So, where do you begin?
The first step is to get an accurate assessment of your parents' or loved ones' ability to care for themselves. After you have assessed the situation, you'll need to figure out what specific tasks needs to be addressed.
To help you develop your list of particular action items, we've put together this list of questions for you to consider.
Is your parent or loved one living alone, or still with a partner? In other words, if they fell down, is there someone there to help them up?
Do they need someone there? How often? All the time? Just at night? During the day or just for certain parts of the day?
Do they need meals prepared or brought in?
Do they need grocery shopping done?
Do they need someone to take care of paying the bills?
Do they need someone to drive them to doctor appointments or other scheduled events?
Does the situation at home call for nursing assistance? A home health aide? A companion? You'll need a specific level of care, for example, if your parent is incontinent, and an even more skilled level of caregiving assistance if your parent has intricate medical requirements (wound care, injections, IVs, etc.).
Do changes need to be made to the home to make it safer? For example, do they need grab bars in the bathroom? A seat or handrail in the shower? Take a look at our list to see what else you can do to make their home easier to navigate and dependably resistant to accidents.
Do you, or whoever else is the primary caregiver, need respite care? In our case, Mom was Dad's main caregiver, and we realized she needed time off — known as respite care — from the non-stop nature of her caregiving responsibilities.  She resisted, but we insisted, and she came to see the value in having a break every now and then.
Review your assessment list from Step One once and think through all of your needs. There is nothing too big or too small to include. Our goal is to help you get organized. We've learned that the most important key to solid, effective caregiving is being organized. It is way too easy to get sidetracked and distracted by the endless urgencies that crop up on a day-to-day basis. Staying organized will keep you on track and help you maintain a consistent level of care and comfort for your parent or loved one. Sharing as many responsibilities as possible and keeping open the lines of communication with everyone involved are also critical elements for all caregivers.
On Tuesday, In Care of Dad will present Step Three of the Caregiving Basics: how to translate what's needed into a plan of action.
Kim Keller is the Co-Founder of In Care of Dad. She lives and works in New York City.