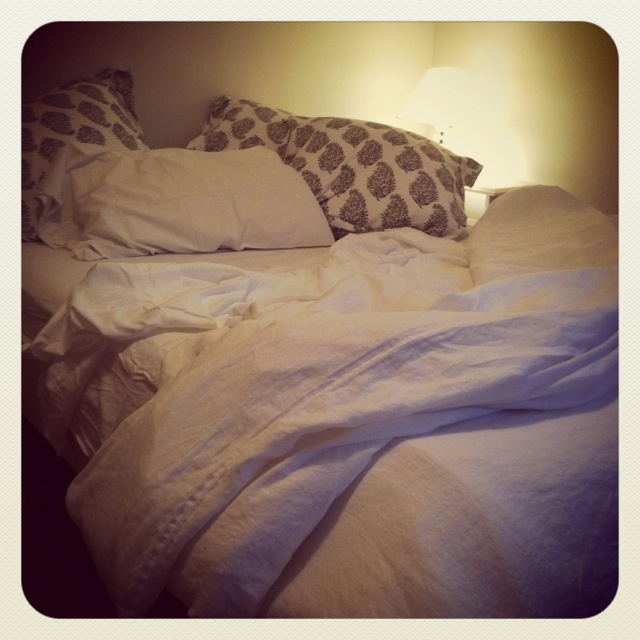 by Karen Keller Capuciati
If you're like Kim and me, the emotional turmoil of caregiving can keep you up at night, keep you from ever getting a good night's sleep.  Dad used to have an especially hard time at night, and Kim and I would worry about how he was doing, what was going through his mind as he faced uncertain health, how things were going to work out.  And, when Dad was home from the hospital, we would also worry whether or not Mom was getting any sleep.  I realize this sounds like we were obsessed with worry, and perhaps we were, but how else do you prepare for everything that accompanies your parent's failing health?
Kim and I would help each other by talking through some of the issues that were keeping us up at night.  And I am personally grateful for my yoga and meditation practice — it gave me some much-needed tools for when I couldn't sleep.
Here are some tips we found useful:
Write down all of your thoughts, concerns and to-dos before you go to bed.  Since nothing is going to get accomplished in the middle of the night, you'll feel some satisfaction knowing that everything you need to address is on that piece of paper waiting for the morning.
Experts will say to have a bedtime routine to help separate the day's stress from your (supposed) nighttime relaxation.  So: take a bath, listen to soothing music, meditate, do a couple of restorative yoga poses.
Our mom believes that chamomile tea helps her sleep.
If you wake up or simply can't fall asleep, recognize the endless chatter in your head for what it is — just chatter.  It seems that the mind can "go wild" at night, so remember that there is more clarity in the morning and you can deal with it, whatever it is, then:
Try shifting your thoughts to something that makes you happy.  My friend Jane taught me this while I was holding a yoga pose and feeling the intense pain of burning muscles — it is amazing how well it works.
Learn some calming breathing exercises and practice them when you are lying in bed awake.
See the "Rest Easy" article we found on Yoga Journal's website for some natural solutions for insomnia, including breathing exercises.
Doesn't it seem like the more you worry about sleeping, the harder it is to sleep?  So give yourself a break, be compassionate about your sleeplessness, and try to stay positive in your approach.