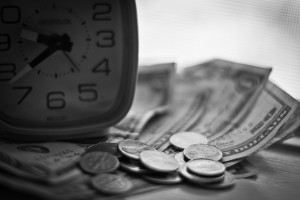 by Kim Keller
The money worries began in earnest the day we realized our dad was going to need full-time care.  He didn't have long-term care insurance and eventually the money would run out.  The worrying intensified when Dad's Medicare coverage for skilled-nursing care (a.k.a. rehab) ran out.  We all knew that rehab was critical to his recovery, but after so many stays in rehab, Dad's coverage was gone.
But the worries didn't end there — it exploded into panic the day we found out that he had also depleted his Medicare hospitalization coverage.  This was now a full-blown nightmare.  What would we do?  Not only was Dad's very life at stake, but our parents' entire financial security was also at risk.  Money should've been the last thing on our minds, but we were now forced to divide our attention and focus on preventing our parents' financial demise.  We had to make sure that Dad was receiving the best available care, while at the same time we needed to assure our parents' financial security.
It was daunting, to say the least.
So who pays for long-term care?  Not Medicare.  Medicare generally only pays for short-term care for rehabilitation purposes.
There are three basic ways to pay for long-term care:
personal financial resources,
 long-term insurance, if your parent (or other loved one) has a policy, or
Medicaid, if your parent (or other loved one) qualifies, and, generally, Medicaid only covers nursing homes, though some states now pay for assisted-living facilities as well.  Nursing home business offices should be able to answer any eligibility questions.
If your parent has an insurance policy for long-term care, then read it carefully to make sure you understand the terms before you start looking for a nursing home.  The terms can be wildly different from one policy to the next.  If your parent has a Medicare Advantage plan or another type of Medicare health plan, like an HMO or PPO, then they may be covered for long-term care in a nursing home.  Apparently, some nursing homes have arrangements with specific HMOs and PPOs, and these are worth looking into.  Also, importantly, if your parent's a veteran, there are all kinds of benefits available.  To find out more about veteran's benefits, call 800-827-1000.
Here's another key point: Make sure that any nursing home you consider is certified by both Medicare and Medicaid. The federal government sets more than 150 different standards of care that a nursing home must meet, and inspections are conducted annually to ensure compliance.  Medicare and Medicaid certification covers a wide range of nursing homes — it's not necessarily a promise of luxurious accommodations, but it should ensure a basic, minimum level of quality and competence.  Choosing a certified home will also make your parent eligible for short- and long-term payment assistance.
As for short-term care at a skilled-nursing facility, Medicare generally covers 100% of the first 20 days.  For the next 80 days, your parent is responsible to pay $141.50 per day, which can likely be picked up by his or her secondary (or "gap") insurance, and then Medicare typically covers the balance.  Medicare coverage stops after the 100th day.  Your parent must also have a hospital stay of at least three consecutive days (not including the discharge day) and a doctor's order to qualify.  Medicare's coverage includes a semi-private room, meals, skilled nursing and rehabilitation services.  The national average median cost for a skilled-nursing facility, according to The Genworth 2012 Cost of Care Survey, is $200/day for a semi-private room.  The Genworth Survey is a great reference for a state-by-state breakdown of care costs — nursing homes, assisted-living facilities, in-home care, etc. —  and we highly recommend you check it out if you have any questions or need information about the costs of care in your area.
Two other facts we learned were:
If your parent's doctor is recommending skilled-nursing care, your parent will have 30 days to make that decision.  In other words, your parent can go directly home after a hospital stay and take a month before deciding whether to enter a skilled-nursing facility.
If your parent uses up the entire 100 days of coverage in a skilled-nursing facility as our dad did, then the only way to replenish it is for your parent to be out of the hospital and/or skilled-nursing care for 60 consecutive days.  Then the next time your parent is in the hospital for at least three consecutive days, coverage for 100 care days is replenished.  With our dad, we found ourselves nervously counting the days between his skilled-nursing care stays.  This was unbelievably stressful.  In fact, one time our dad was at the 58-day mark when he had to go back into the hospital, and coverage for the next 100 days was lost.
To learn more about covering the cost of care, Medicare has a great booklet called Medicare & You 2012, which outlines all the basic coverage information.
Please tell us in the comment section below about your experiences with covering the cost of care for your parent or loved one.
Kim Keller is the Co-Founder of In Care of Dad.   She lives and works in New York City.  
The photo titled "Money" was taken by Andrew Horowitz.