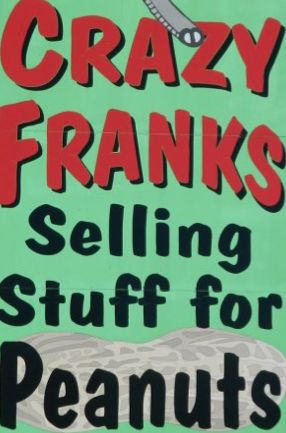 by Colleen Lanier
In 2011, my best friend Sean and I drove his parents, Henry and Joan, from Wisconsin to Washington State to help them resettle in an assisted-living facility closer to Sean. Joan had Alzheimer's disease and needed help with everything from cutting her food to using the rest room. Henry had stage IV metastatic lung cancer and had been given just a few months to live. This is an excerpt from my book about our trip.
As we traveled a little farther down the road, Henry started talking about Crazy Franks, a place with a little bit of everything where he had shopped years before, always finding something he needed. He wanted us to stop there. We found it in its new building in Readstown, Wisconsin. Their slogan was "50,000 items selling for peanuts." This would be our second stop of the day. Henry stayed outside in the car to have a smoke while Sean, Joan, and I headed inside.
Joan and I started with a group trip to the bathroom, and then we walked around. There truly was a little of everything: vintage clothing, birdhouses, collectibles, food, tools, and housewares. She liked things that were glittery or shiny, and we picked up many items as we walked around. When I stopped to look at pillows, she started loading up on them. She had at least five when she started down the aisle. I called her name, and when she turned around, there was no face — just a big pile of pillows with legs.
I bought an overstuffed pillow for $4.44, a wedge pillow for $3.98, and a blanket for $2.00. It had been electric at one point and had wires running through it. There was no way to plug it in, thus the bargain price. It was blue on one side and tan on the other. It was tacky, but Joan had stated she was cold on several occasions, and I thought it would come in handy. She was wrapped up in that $2 blanket for most of the trip. If the blue side showed, she was fine, but if the tan side was visible she thought it was "icky."
When we got to the checkout counter, Joan started picking at stray pieces of paper, rearranging the "impulse" items at the register and talking in a way I could not follow. I had no idea what we were talking about. The cashier just smiled, patted my hand, and said, "I know all about it, honey. My mom too. God bless you both." Joan gave her a big smile and told her she was a good girl.
Sean found a free popcorn machine and took a bag out to the car. Once I got Joan buckled in, I went back for a second bag. Joan quickly polished off one bag and started on the next. When it was about halfway eaten, she turned down the edges and passed it up to her husband. He had eaten next to nothing that day — his appetite had been steadily declining, and getting him to eat was a challenge. Henry ate that popcorn, though. He said it hit the spot. It would be the bulk of his calories that day. All in all, our $10 stop at Crazy Franks was priceless.
Colleen Lanier is a registered nurse with a private consulting firm. "Crazy Franks" is an excerpt from her book, Miles from Home, a memoir of the journey she and her first love Sean undertook to transport his ailing parents to an assisted-living facility in the Pacific Northwest. It's a story about the messiness of life, death, friendship, and, ultimately, the power of love. The book is available at colleenlanier.com.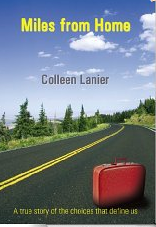 Tags: emotional support for Alzheimer's disease, Emotional impact of caregiving, Colleen Lanier, traveling with alzheimer's