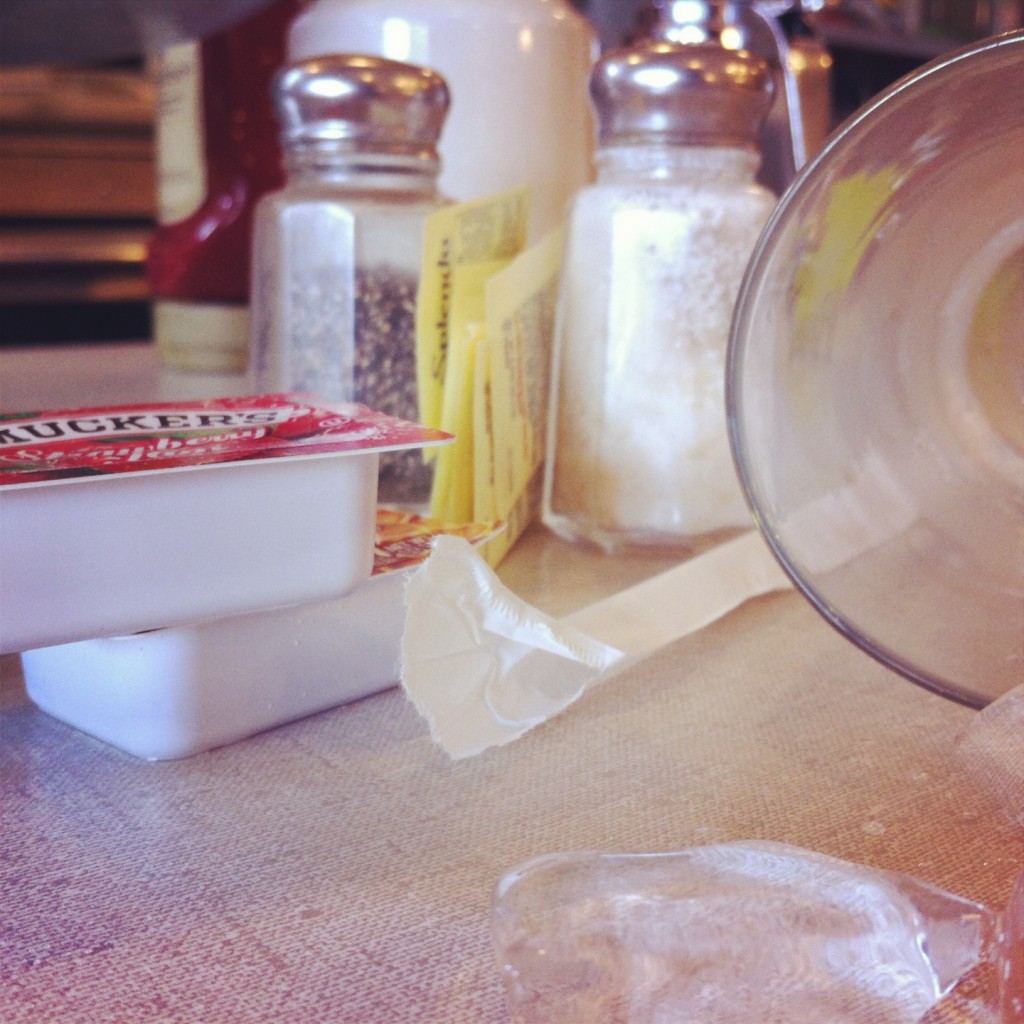 by Colleen Lanier
With a strained smile on his face, the restaurant manager approached our table. His glance swept across the clutter, and came to rest on Joan. She didn't look up, remaining focused on picking up ice cubes spilled a few moments earlier. In the span of a few seconds she placed them in every cup on the table, added a few to the bowl with the sugar packets and, finally, handed one across the table to me. I took it from her hand, gave her a smile and returned my attention to the manager.
He looked uncomfortable, shifting his feet and struggling to meet my eyes. "I am sorry, folks, but this, uhh, I mean, her . . . well, you are disturbing the rest of the diners. How about I wrap your orders to go? No charge. It just, well, I have to think about what's best for everyone. I'll have your order ready in just a few minutes."
Without waiting for a response, he turned and hurried into the kitchen. My heart sank. I felt terrible about putting Joan in the position of being asked to leave a fast-food restaurant. We were traveling cross-country with her husband and son, and had stopped for lunch and a brief respite from the car. Joan had Alzheimer's and was having one of those days when she was so restless that she was in constant motion.
While we waited for our orders, she had spilled several drinks, opened multiple ketchup packets onto the tabletop and tried to take advertising placards off the tables around us. The placards were clear acrylic frames containing brightly colored, laminated photographs of the daily specials, and Joan felt like collecting them. The fact that many tables were occupied did not deter her. Two teenage girls had not appreciated Joan's intrusion at their table and complained to the manager.
Accepting that it was time to go, I stood, offering Joan my hand and steering her towards the ladies room. She had ketchup on her hands and needed to wash up before heading back to the car. As we passed the young ladies, I heard one of them mutter "What's wrong with that lady anyhow? She's disgusting."
I stopped, turned and walked up to their table, staring at the girl who had spoken until she met my eyes. "This is my mother," I said, "and she has Alzheimer's. I hope you never have a day like we are having, and that if your mother ever travels this path, she will be met with more compassion."
Joan wasn't really my mother but, as my second mom, I loved her as if she were.
Neither of them spoke, and Joan and I made it to the ladies room without further ado. When we exited the bathroom, the teenager was standing in front of the door. She had a bag in her hands, and she held it out to me. "The manager brought this out while you were in there, so I said I would give it to you when you came out. I put extra napkins in the bag since she might need them." She paused and then added, "I'm really sorry."
"Thank you." I accepted the bag, and Joan and I walked into the sunshine, joining her husband and son by the car. They had opted to eat outside, choosing fresh air over air conditioning. Once I had Joan safely belted into her seat, I reached into the bag to get her food. My hand hit something hard, and I started laughing as I realized it was an advertising placard, probably taken from the teenagers' table. I had no doubt my message had been received, and Joan had quite a bit of fun with that placard.
I learned from our experience, and we were never asked to leave another restaurant. Joan didn't get better, nor did she stop having unusual behaviors. I simply did a better job of setting her up for success.
Joan's son, Sean, and I worked as a team whenever going out to eat. One of us would walk outside with Joan while the other went inside to talk with the hostess. Joan got to enjoy some fresh air and one-on-one attention while preparations were made inside. She did not have to wait to be seated, because we did not bring her inside until the table was ready.
We requested booths instead of tables and tried to get seated near the corners. With Joan securely settled in the booth nearest the window, she had plenty to look at and could not wander. We faced her away from the rest of the tables so she would have a better chance of being able to focus on her meal. It also shielded her from curious eyes as her table manners deteriorated. We made a point of letting our waitress know we were with someone with Alzheimer's, and we were met almost always with understanding and a willingness to cooperate.
I also started carrying a "Joan purse," containing everything I might need for her. It reminded me of the bag my sister always carried when leaving home with her children. She would make sure she was ready for anything and everything when going out, and I needed to do the same in order to make time with Joan more enjoyable for everyone involved. Like a boy scout, I needed to be prepared.
I carried hand sanitizer, wipes and hand lotion. I had several small packages of tissues since she loved to pull them out one at a time and shred them. I found that small Tupperware containers filled with cotton balls, paper clips and hard candies were a great distraction. If Joan got restless, I would put the containers on the table and she would happily unpack, reorganize and repackage the items. Small spiral notebooks and colored pencils also came in handy. These small changes in our strategy made a huge difference in our experience.
Joan loved being around people and was always a sociable, outgoing person. Sadly, her Alzheimer's disease has progressed to the point where she is unable to leave the memory care unit, and she doesn't really enjoy eating any more. Those last few meals out in the community, playing with paper clips, looking out the windows and opening a few too many jelly packets, were some of our last truly happy times together.
And, yes, I kept the placard. I turned it into a picture frame that now sits on my desk, with a photo of Joan and me eating ice cream cones on the deck outside her memory care unit. It is a constant reminder of lessons learned, adapting, and making precious memories.
Colleen Lanier is a registered nurse with a private consulting firm, and the author of Miles from Home, a memoir of an emotional journey made by Colleen and her first love Sean to transport his ailing parents to an assisted-living facility in the Pacific Northwest. It's a story about the messiness of life, death, friendship, and, ultimately, the power of love. The book is available at colleenlanier.com.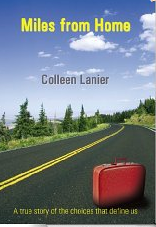 Restaurant photo by Karen Keller Capuciati