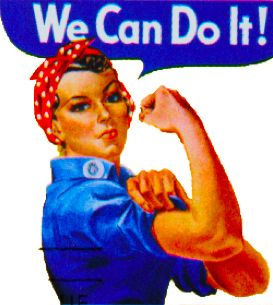 by Myra Marcus, Ph.D
Empowerment is a tricky word. It can mean to enable or to equip with an ability, to authorize or endow. It implies that special "power" can somehow be magically transmitted from one person to the next.
Poof! You are now strong and powerful!
The truth is, nobody can make another person feel powerful and competent. While it would be nice to have a magic pill to give us immediate power (especially when taking on the role of caregiver), the fact is, empowerment comes from inside. While it's hard for some to unlock their "empowerment potential" during difficult times, the first step is to recognize what you're up against. Caring for a loved one with Alzheimer's or some other serious illness is an arduous, lonely and seemingly endless task. There's a reason why caregivers routinely face what has been referred to as the "36-hour day." It is exhausting work.
Most caregivers are spread extremely thin, which makes it even harder for them to hold it together, let alone feel empowered. In addition to tending to their loved ones' needs, caregivers generally struggle to hold onto remnants of their personal lives, the parts that help them identify as individuals with their own social, emotional and physical needs. Often times, caregivers put their loved ones' needs before their own and totally alter the pattern of their lives by switching to part-time employment, relinquishing chances for job advancement and, in some cases, stopping work altogether to become full-time caregivers.
Another stumbling block caregivers face is that many really don't know what they're getting into from the onset. The learning curve can be quite steep. This is just not a job anyone plans to take on in life — one can never be completely prepared for the role. Consequently, many caregivers experience feelings of doubt, fear, anger and depression.
The good news is, that sense of empowerment that many caregivers crave is attainable. It's important to remember that, even though a large portion of their energy will be focused on their ailing loved one, caregivers must take some time to reflect and care for themselves. One client of mine in particular was a good example of an empowered caregiver. Dave was in his 60s when he moved into his mom's home to care for her. Throughout the next two years, as Dave devoted himself to his mom's care, he had what I can only describe as internal strength. He felt that taking care of his mother was his duty, not a burden, and he never looked back. Dave was empowered because he was at peace with himself and the unexpected turn that life had presented him.
Here are some tips to help caregivers find the same kind of empowerment as Dave:
Start by incorporating a little "me time" into your life. Even if it's only occasionally, it will help you become a more effective caregiver. And as your routine becomes, well, more routine, that sense of empowerment will find a way to reveal itself.
Build a strong social support network. You need friends to enjoy, to share your problems with and to laugh with.
Try journaling as a way to process your feelings and thoughts — it will enhance your self-awareness. A gratitude journal allows you to discover and record at least one good thing that happens each day.
Remember that you have a choice as to how you perceive this caregiving experience. Negativity begets negativity. Think positive — it may actually give you positive results.
Caregiving can seem to be an unending process, and it is easy to feel terribly burdened. Laughter is a wonderful cure for that — there is nothing more healing than humor. Find the absurd, the ironic, the silly, the goofy, the giggles in everyday situations. Monitor and enjoy your inner stand-up comic!
Finally, repeat after me: "No matter what happens, I'm going to be okay!" Because it's true.
Myra Marcus, Ph.D, is a clinical social worker with Family Centers, one of Fairfield County's largest providers of human services, counseling, health and education programs. With offices in Greenwich, Stamford, Darien and New Canaan, CT, Family Centers is a United Way, Community Fund of Darien and New Canaan Community Foundation partner agency that offers counseling and support programs for children, adults and families. Family Centers is also affiliated with the Community Fund of Darien. For information, call 203-869-4848 or visit www.familycenters.org.