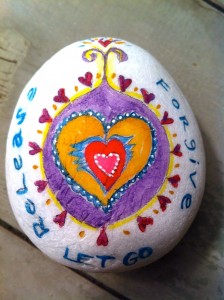 by Lisa M. Wolfson
I have always been an advocate for self-improvement and growth, but in recent years, as a breast cancer survivor, my desire to make necessary changes has become a priority. I've come to realize that inner peace is at the core of maintaining a happy, healthy life.
Struggling with situations that don't serve me well, but often feeling guilty about letting go of them, has been a continuing source of disquiet for me. Harboring resentments for the actions of others has brought me down and into a dark place. I would tell myself "let it go." But how do I accomplish that?
When someone's behavior hurts us or makes us angry, we may hold onto a resentment for the person or situation they've created or helped to create. We think of forgiveness as a timid act, an act of giving in. We focus on the source of our pain and decide that forgiving the person who caused that pain allows them to win. What we overlook is that dwelling on the pain hurts us more, lowering our energy, overwhelming our concentration, and undermining the better angels of our nature. In short, the act of holding onto pain hurts us more than it hurts anyone else. It holds us captive and renders us helpless.
Forgiveness is an empowering act. When we are consumed with resentments, we are held back and controlled by them. We talk about them, we become preoccupied with them, and our moods are subsequently altered in a negative way. Ultimately, all the resentments we hold boomerang inward and the self-anger seeps into our daily lives, overshadowing the joys of the day and the joys to come. When we make a decision to forgive, release and let go, we are taking back the power over our lives. We are removing this preoccupation from our focus and allowing ourselves to move forward. Releasing the harmful resentments we harbor is like a detoxification that yields energy and focus. Now that's empowerment!
Forgiving a person does not mean that we allow the hurt to continue. Not at all. On the contrary, it's an acknowledgment that we are no longer dwelling on the how or the why of their actions, and instead merely releasing it and moving on. Recognize that any unkind words or actions someone else directs toward you is simply a reflection of themselves. Release it so it never becomes a reflection of you. Remember the Law of Attraction — you attract what you focus on!
Sometimes we also continue relationships that are toxic because we are consumed with the pain, drained by it and on a never-ending quest to fix it, to make it all better, to decontaminate and purify. But we need to recognize there are people and situations we cannot change. We need to accept that we can forgive toxic people and toxic relationships, but we do not have to remain a part of them. Through the act of forgiveness, we can help to make the releasing and letting go a permanent act. And consequently feel good and renewed, rather than carrying all that baggage around with us all the time.
If you can send good thoughts toward the person who caused you pain, you will help them heal, potentially spare someone else the pain you experienced, and further your own healing. It may seem like an extraordinary step, but you can break the cycle of pain by rising above it. You can do this from a distance — it need not be in person or even with the other person's knowledge or consent. The effect will be the same regardless.
Importantly, we also have to forgive ourselves. We are way too hard on ourselves as we strive for perfection. It's true that the greatest and most vital act of forgiveness is the one we give to ourselves. When we learn to forgive ourselves for our imperfections and shortcomings, the forgiveness shows in all that we do. And we will attract people who gravitate to the best in us. Again, the Law of Attraction in motion.
Forgive someone today. Forgive yourself. You will marvel at the benefit you reap. Forgive, Release, Let Go! Enjoy the freedom you will feel.
Lisa Wolfson is a Reiki Master and lives in Rockville Centre, NY.

In honor of Breast Cancer Awareness Month, we are reprinting this important and useful blog, which originally ran on July 16, 2013.
Tags: emotional support for cancer, Forgiveness