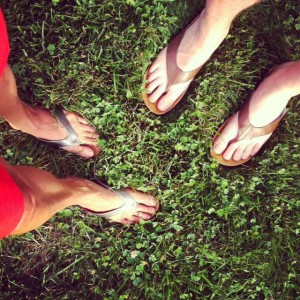 by Karen Keller Capuciati
After publishing our blog about Earthing in early June, we heard from a footwear company called Juil which makes shoes with copper in the soles, allowing your body to be in contact with the natural healing energies of the earth.
Peter Coulter, a representative of Juil, shared with me his interest in the benefits of Earthing and suggested I try their leather (and vegan) sandals and clogs, made for both men and women.  The copper-infused soles allow for conductivity, so the wearer is connected, or grounded, with the planet's surface.
What's behind Earthing?  There is emerging research that indicates our planet has healing properties.  With simple contact, the energy of the earth has been found to neutralize disease-causing free radicals, which are uncharged electrons (neither positive or negative) that build up in our bodies due to environmental toxins, poor diet and stress.  These free radicals can cause all sorts of damage to our body's systems.  So, in effect, our planet serves as a natural antioxidant force, healing our bodies from many ailments, including autoimmune disease, headaches, insomnia, pain and disease caused by inflammation.  And all it takes is simple everyday contact with the earth, like walking barefoot in the grass or in the sand on the beach.  For more information, including links to research results, you can check out the In Care of Dad blog called Earthing: Can Our Planet Heal Us?
I was intrigued so I promptly bought a pair of Juil shoes and, quite honestly, have not stopped wearing them since.  I bought the Hera style sandal in pewter for $125.  I like the quality and style of the sandal, but I'm even happier that the sandals allow me to be grounded so much more often now.  It's just not practical to walk barefoot all the time in this world, so the shoes serve the dual purpose of protecting my feet and keeping me connected to the natural healing properties of the planet.
The extra bonus is that Juil is a philanthropic company with a dedicated mission to enhance well-being around the world.  In 2012, Juil is partnering with Soles4Souls to donate a pair of shoes — for every Juil pair purchased — to a person in need in a developing country.
Leave us a comment below telling us what "being grounded" means to you.