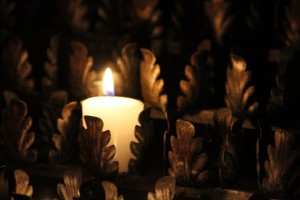 by Ed Moran, LCSW
As if by annual surprise the holidays are upon us again, bringing with them a sense of joy for some and apprehension for others.  Pressure to find the gift that beats all gifts, shopping lines, office parties, credit card bills, and dysfunctional family struggles can so monopolize our thoughts that the true meaning of holidays tends to elude us.  This time of year is already rife with anxiety-provoking moments, but when we're grieving the loss of a loved one, the holidays can be downright excruciating.
No matter how recent or distant the loss, the holiday season emphasizes, more than any other time of the year, the empty chair at the family table.  If it's the first holiday since a death, the absence can be unbearable.  You wonder, "How can I possibly make it through?"  The fact that grief, just by its nature, can also be confusing adds to the anguish.
After losing my own father 16 years ago this month, I can identify with the desire to find answers, to find a road map for how it's supposed to work.  Sadly, that sort of map doesn't exist — there is no correct or incorrect route.  But there are things we can do to help find some comfort.  Here are Ten Useful Tips for navigating the holidays while grieving:
1.  Understand that the holidays will be painful.  Recognizing that ahead of time can help temper unreasonable expectations.
2.  Have a plan for yourself.  Understanding how the absence of our cherished one will be acknowledged can resolve a degree of worry.  Talk about them. Light a candle.  Leave a space at the table.  Whatever you're comfortable with.
3.  Discuss your concerns with the family.  People grieve in different ways so understanding each other's needs and wants is important.
4.  Keep in mind the holidays will be different now.  Trying to navigate this time of year as if nothing has changed could lead to disappointment.
5.  Acknowledge that there isn't a right or wrong way to grieve.  It's about what works for you.
6.  Take a break.  If you're feeling overwhelmed, it's okay to take some "me" time.
7.  Reach out — talk to another family member or friend about what you're feeling.  You don't have to go through the pain all by yourself.
8.  Be mindful of alcohol use.  Drinking can magnify your emotions.
9.  Resist taking on too much.  It might seem like a healthy distraction, but added stress can make things more difficult.
10.  Allow yourself to feel the pain.  Losing someone you love hurts.
The first Christmas after my father died just didn't seem real.  We all gathered in my parents' home and celebrated as a family.  We talked about Dad and reminisced.  There was laughter and tears, and his presence was felt through storytelling.  For our family that was helpful.  Perhaps the most important message here is to do whatever feels right and comfortable for you and your family.
Ed Moran, LCSW is a clinical social worker at Family Centers Serving Greenwich, Stamford, Darien, New Canaan, CT and Westchester County, NY.  Family Centers is a United Way, New Canaan Community Foundation and Community Fund of Darien partner agency that offers counseling and support programs for children, adults and families.  For information, call 203-869-4848 or visit www.familycenters.org.
Tags: grief, grieving during the holidays, loss of a parent