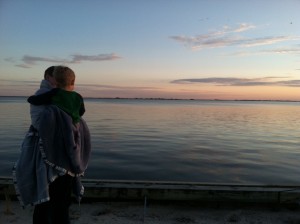 by Christine Taylor
Anyone who has received a life-threatening diagnosis can probably describe the moment their world stopped.  I was struck in the middle of a beautiful summer day while my family was over for a visit.  We were deciding whether to go to the beach or out to lunch when I received the call from the surgeon who had biopsied my right breast a few days before.  I had spent the interim time telling myself that I was only 32 and there was nothing to be worried about, trying to suppress that aching fear in the pit of my stomach.  I was waiting for the phone call so that I wouldn't have to think about it anymore and I could just move on with the amazing summer that was before me.
Then the phone rang.
I had cancer.  My world stopped.
The next day, I went for my first mammogram and MRI thinking how backward it all seemed.  Shouldn't the first mammogram happen before the cancer is diagnosed?  And shouldn't that be eight years from now, when I'm 40?  This is not how my summer was supposed to go.  I was supposed to be celebrating new beginnings.  I was supposed to be enjoying my new house, swimming in the ocean with my son Jack and hosting friends and family.  I was not supposed to be fighting for my life.  Unfortunately, when you're faced with a diagnosis such as cancer, you do not have the luxury of festering resentment. You have a lot to do in a short period of time.  Your life depends on the decisions you make and the focus you maintain in the days and weeks before your treatment begins.
Having a professional background in health, I'm well educated on the topic of mind-body interconnection.  I remembered being fascinated as a college student when I read about guided imagery — also known as visualization — and how it could improve the outcome of many ailments, including cancer.  So I asked the patient navigator at the breast-imaging center if she knew of any practitioners.  She directed me to a social worker who specializes in helping people with cancer.  When I got home, I called the social worker and she shared with me many resources, including a guided-meditation clearinghouse called Health Journeys.  That night, I went to the website and loaded my iPod with "The Cancer Pack," which includes meditations for fighting cancer, for assistance with chemotherapy, for relieving stress, and for general wellness. I also purchased a meditation to help with successful surgery and one for creating a healthy immunity.
It was my way of taking control of my body in a situation that felt so out of control.  For me, the most difficult part of having cancer was the incessant waiting.  I felt like my family and I were the only ones with any sense of urgency about eradicating the tumor from my body.  I waited for appointments, for test results, even had to wait for my surgeon's vacation to end so we could finally remove the cancer continuing to grow inside me.  I was scared, angry, frustrated, grieving and numb from this incredibly unwelcome disruption in my life.  Guided imagery was something I could do to help myself, as often as necessary.
I have a strong belief that thoughts become things, and that my body was in great need of healing messages.  I wanted to tell my body, "Despite this betrayal, I love you, and I'm going to do everything I can to help you heal."  So I laid in bed, pressed play on the iPod and closed my eyes.  I began to breathe and settle in, as instructed.  I let my mind follow the soothing voice telling me to imagine a place where I felt safe and comfortable.  I've heard that some people always go to the same place; for others the destination varies.  For me, I'm always on Paradise Island in the Bahamas, sitting on the beach.  I think it's because I have very special memories of that beach.  Then the voice guided me to imagine a window and to step through it.  Suddenly, I found myself in an operating room, watching the staff prepare for surgery.  They wheeled in a patient and I was surprised — but not surprised — to see that it was me.  I watched as the staff operated on me, in the most caring and professional way, smiling and remarking on how well the procedure was going.  I marveled at how well my body was reacting to the procedure, and how it knew exactly what to do to limit bleeding and to heal itself once I was in the recovery room. There were spiritual guides surrounding the doctors and me, sending love, guidance, confidence and reassurance to everyone present.  Then I listened to a series of affirmations.  The affirmations are statements designed to send positive messages to the body.  I would listen to the affirmations after the guided imagery in bed, but I also listened to the affirmations when I was driving in the car.  It is suggested, by the way, that you don't listen to the guided imagery in the car, as it can induce sleep.
The day of surgery finally arrived.  I listened to meditations on the car ride to the hospital, then I listened in the recovery room after it was over.  I listened overnight when I could not fall asleep.  My surgical outcome was excellent, and the doctors did indeed comment on how well I had handled the procedure, as did everyone who visited me in the days and weeks that followed.  I attribute this to several important reasons: I had a strong body, capable doctors, a supportive family and a good attitude.  I am sure that the meditations contributed to that as well.
I continued listening to guided meditations throughout my chemotherapy cycles, and I still listen today for general wellness.  I am happy to have found a tool that works for me and is in alignment with my philosophy on wellness. There are guided-imagery recordings and scripts for most health issues you can think of.  I have listened to many and I always find them to be relaxing, uplifting and confidence-building.  They are so calming that I often fall asleep to them.  Interestingly, I always seem to wake up just as the recording ends.  I see that as an indication that my body and mind know just what to do, and it's okay to let go, get out of the way, and let them do their thing.
Many people, when they get sick, put the responsibility for their health entirely in their doctors' hands and believe they are just passive recipients of medical interventions.  I believe something different: that people can be active participants in the healing of their own bodies, no matter the ailment.  It is this belief that enabled me to survive the experience of having cancer.  I don't see the value in bringing yourself to the doctor and waiting to be "fixed," as though you were bringing your car to a mechanic.  Vehicles can not help the mechanic in the fixing process, but humans have great power.  We can help our bodies heal.  We can help our minds relax.  We can ease our own suffering and feelings of helplessness when we are slammed with an out-of-the-blue diagnosis.  There are many beautiful gifts that can be gathered during a journey through hell.  When it's all over, no matter the outcome, you can leave the ugly behind, keep the gifts, and be stronger, happier and less lost than you were before your diagnosis.
Christine Taylor is a holistic health counselor and health educator.  She lives in Hampton Bays, New York.