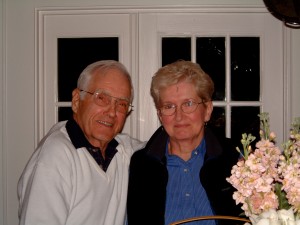 This is a photo of Mom and Dad in Connecticut, on our last Thanksgiving together in 2004.
Today we are reminded of the life lessons passed along to us by our father.  Dad cherished every opportunity to spend time with family and friends, and he was always grateful — even in the hardest of times.
We thank you for being part of the In Care of Dad community, and we wish you all a wonderful Thanksgiving.
Feel free to share with us your fondest memories of this splendid holiday.
Kim and Karen