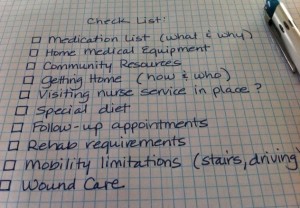 by Joan Blumenfeld, MS, LPC
We all know our healthcare system is badly broken.  We hear about it constantly from the media which shouts at us about our horrendously expensive and dysfunctional health care system.  Still, it was an unwelcome surprise when the dysfunction impacted me professionally.
A small but critical part of the continuing dysfunction is the hospital discharge procedure.  In the current climate it seems to me that discharge planning is more about discharging than planning.  Many hospital staff members are concerned healthcare providers but they do not seem to have much awareness about what happens when the patient leaves the hospital and returns to his or her community.  The transition is fraught with communication gaps, understaffing and rushed planning.
Not long ago I had an 87-year-old client named Anna who was frequently hospitalized with complications of congestive heart failure (CHF) and chronic obstructive pulmonary disease (COPD).  She was repeatedly discharged from the hospital with the wrong medication list, inadequate home-care equipment and poor follow-up instructions.
On several occasions I had to stand my ground with the hospital discharge planner and insist that Anna not be sent home until we had a prescription for a diuretic and an oxygen tank, both of which were in use in the hospital but absent from her discharge plan.  At my insistence, the discharge planner finally got the appropriate orders and Anna went home with all the medications and equipment she needed for her safety and well-being.
Another time my client was a 78-year-old man named Alex.  Alex had suffered a stroke that left him with mild but significant deficits in his balance, his word-finding ability and his peripheral vision on one side.  He lived alone and had no local relatives to look in on him.
Alex was discharged back into the community with virtually no plans for his recovery.  His only directive was to begin occupational therapy, which, as it happened, was the one therapy he really did not need.  Although he was not allowed to drive for a month or so, Alex was quite able to feed himself, dress, bathe, and use the phone.  What he did need — prescriptions for physical, visual and language therapies; referrals to a neurologist and a neuro-psychologist for evaluations of the damage done by the stroke and for stroke-prevention guidance — the hospital did not provide.
Luckily, Alex had a friend who knew about Geriatric Care Management and so Alex found his way to me.  Within the first week I made a follow-up appointment with his primary care physician.  I located, vetted and set up appointments with a physical therapist, a vision therapist, a neurologist, a neuro-psychologist and a low-cost driving service to get Alex to all these appointments as well as for running his errands.
Hospital discharges can be a very dangerous transition time.  The hospital discharge planner ought to have a strong role in making a care plan, but all too frequently they don't. Additional medical crises and many re-hospitalizations could well be avoided if there were better after-care plans in place before a patient returned to the community — not to mention the reduced levels of stress and anxiety for the patient and the family!
Pearl of wisdom:  At the time of a hospital discharge, it is crucial that frail, introverted and submissive elderly patients have strong advocates with them for the after-care segment of the discharge.  A medically knowledgeable and assertive family member, friend or Geriatric Care Manager can work with the hospital's discharge team to formulate a plan that is properly tailored for each patient.
Joan Blumenfeld, MS, LPC is a Geriatric Care Manager practicing in Fairfield County, Connecticut. For more information visit her web site at www.joanblumenfeld.com. © Joan Blumenfeld 2012