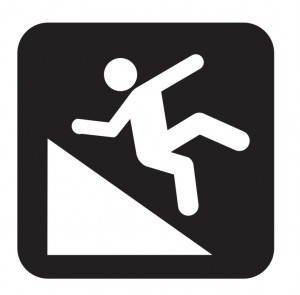 by Joan Blumenfeld, MS, LPC
Sam was alone in his office the day his hip broke.  He crashed to the floor and lay there stunned. Then, slowly and painfully, he dragged himself to the phone and called 911.
My heart sank when I got the call from the Emergency Room at Norwalk Hospital.  I dropped everything and rushed right over.
The surgery to replace Sam's hip was performed immediately, one of those incredible high-tech miracles of modern medicine.  The operation was a success, but his recovery was long, difficult and complicated.  Sadly, Sam, my life-partner of 26 years, never did regain his ability to get around without a walker, and he also needed assistance with dressing and bathing for many months.
I discovered that our home was chock full of hazards that I had never even noticed before.  We had colorful scatter rugs distributed throughout the house.  We had two staircases, one to the bedrooms and baths on the second floor, another to the basement and garage below.  The bathrooms had the usual array of porcelain fixtures and tiles that were "slippery when wet."  Our living room had low, overstuffed seating.  As Sam got stronger, he was able to move around the house more, but these booby traps were serious safety hazards and could easily cause a nasty fall.
Changes clearly had to be made!
I removed many of the scatter rugs altogether and put non-skid padding under others.  I had a second banister installed on each of the staircases so that no matter which way Sam was going, up or down, he could hold onto something to steady himself.  The bathrooms each got an allotment of grab bars, and Medicare gave him a bath seat so he could sit while showering.  The living room got a minor facelift — a new chair that was firmer, higher and had arms, making it easier to both sit down in and get up out of.
The changes were not very costly but absolutely essential for Sam to get around the house safely.  As a serendipity, these changes made our home safer for me and our older friends as well.
Pearl of wisdom:  Do a safety check in the homes of your older relatives or friends.  Eliminate the hazards and reinforce the pathways.  It's a sound strategy for the enhancement of safe household mobility.
Joan Blumenfeld, MS, LPC is a Geriatric Care Manager based in Fairfield, County, Connecticut. For information see her web at joanblumenfeld.com.  © Joan Blumenfeld, 2011