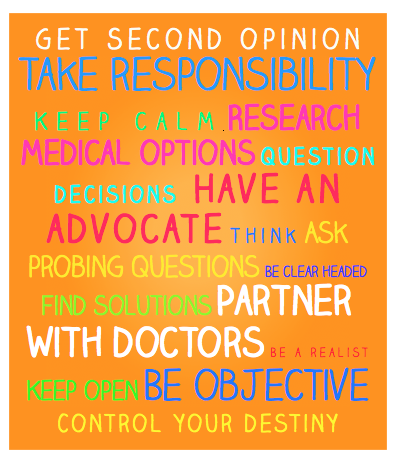 by Kim Keller
"If we are to control our own destinies, we have to switch our brains back on and come to our medical consultations with plenty of research done," says Noreena Hertz in her recent New York Times op-ed piece, "Why We Make Bad Decisions."
Six years ago, Hertz, a professor of economics at the University College London and the author of Eyes Wide Open: How to Make Smart Decisions in a Confusing World, was mysteriously stricken with a debilitating condition. She went from doctor to doctor trying to get some answers but, instead, found herself overwhelmed by differing medical opinions that ranged from invasive high-risk surgery to lumbar spine injections to a course of antidepressants.
She wasn't sure where to turn, whom to trust, what to believe. "As an economist specializing in the global economy, international trade and debt, I have spent most of my career helping others make big decisions," Hertz explains in her Times essay, "so I'm all too aware of the risks and dangers of poor choices in the public as well as the private sphere. But up until then I hadn't thought much about the process of decision-making." So, being an academic, Hertz decided to research the decision-making process, hoping to shed some light on how to weigh the many medical options she had been presented and, ultimately, guide herself to the right choice.
The research led Hertz to these three conclusions:
One, we tend to blindly accept what experts tell us. And no matter how smart we are, we fall easily into this dangerous trap and open ourselves up to bad decisions.
"Physicians do get things wrong, remarkably often," writes Hertz. "Studies have shown that up to one in five patients are misdiagnosed. In the United States and Canada it is estimated that 50,000 hospital deaths each year could have been prevented if the real cause of illness had been correctly identified."
Two, we are inclined to filter information through our own hopeful lenses, or, as Hertz calls it, our "natural born optimism." We welcome and are comforted by information that boosts our own best-case-scenario position, and we quickly discount any information that differs from this view. To be clear, Hertz is not condemning being hopeful; rather, she is advocating the need to weigh all information with a clear head, which is the only way to make good decisions.
And three, making thoughtful choices becomes even more difficult when we are feeling stressed or anxious, emotions that typically go hand-in-hand with serious illness. As Hertz says, "stress makes us prone to tunnel vision," keeping us from absorbing important information. And, as she points out, "anxiety makes us more risk-averse than we would be regularly and more deferential."
I  can relate to Hertz's conclusions. I know exactly what it's like to be overwhelmed by too many medical choices that are often conflicting. I have experienced this with both of my parents. It is incredibly difficult to avoid the decision-making traps that Hertz talks about.
The answer, she believes, is to acknowledge these three types of risk and to "ask probing questions not only of the experts but of ourselves." We need to keep our eyes and our minds wide open, do our own thorough research so we can have more meaningful discussions with our doctors, and consider having someone more objective help us with the decision-making process.
Hertz's personal story, by the way, does have a happy ending. She did indeed make the right decisions for her health care, and she's back on her feet and well armed for any future decision-making.
Kim Keller is the Co-Founder of In Care of Dad. She lives and works in New York City.