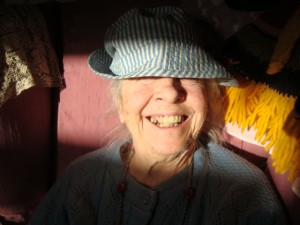 by Beth Whitman
2/16/12
I have been away for two weeks, visiting friends in California, and I'm not quite sure what I'm arriving home to.
Amy made a point of not calling me, in order not to worry me during my vacation, so all I know is that there haven't been any major emergencies.
Surprisingly, it's Mom who missed me the most.  I arrive home at a bit of a tense moment.  The nurse is there, as well as Amy, so when Juliana and I come into the room, it's a full house (read: overstimulation), and Mom has her eyes closed trying to ignore it all.  She hasn't gone into a downward spiral yet, but I can see it's close and could move there fast.
I bring out my gifts of clementines and candies and the watch that I had fixed for Dad.  Dad greets me — happy I'm back.  Mom keeps her eyes closed.
I pull a clementine out of the bag, give her a kiss on the forehead and hand her the mandarin.  She opens her eyes and smiles.
But she is snippy nonetheless:
"What are you doing here now?"
"Are you going somewhere?"
"Where are you?"
I kiss her again.  And motion others to leave the room.
She starts to peel the clementine and begins to relax.
"Here!"  She motions me to sit on her lap.  She hands me wedges of the clementine to eat.
Then she hands Dad some clementine.  He knows better than to refuse (even though he just peeled and ate a couple himself).  He thanks her and puts the wedge on the table next to him.
I am home.
Beth Whitman lives in Maine and is a member of Belfast Cohousing and Ecovillage, a developing community on the coast of Maine focused on multigenerational living and sustainability.