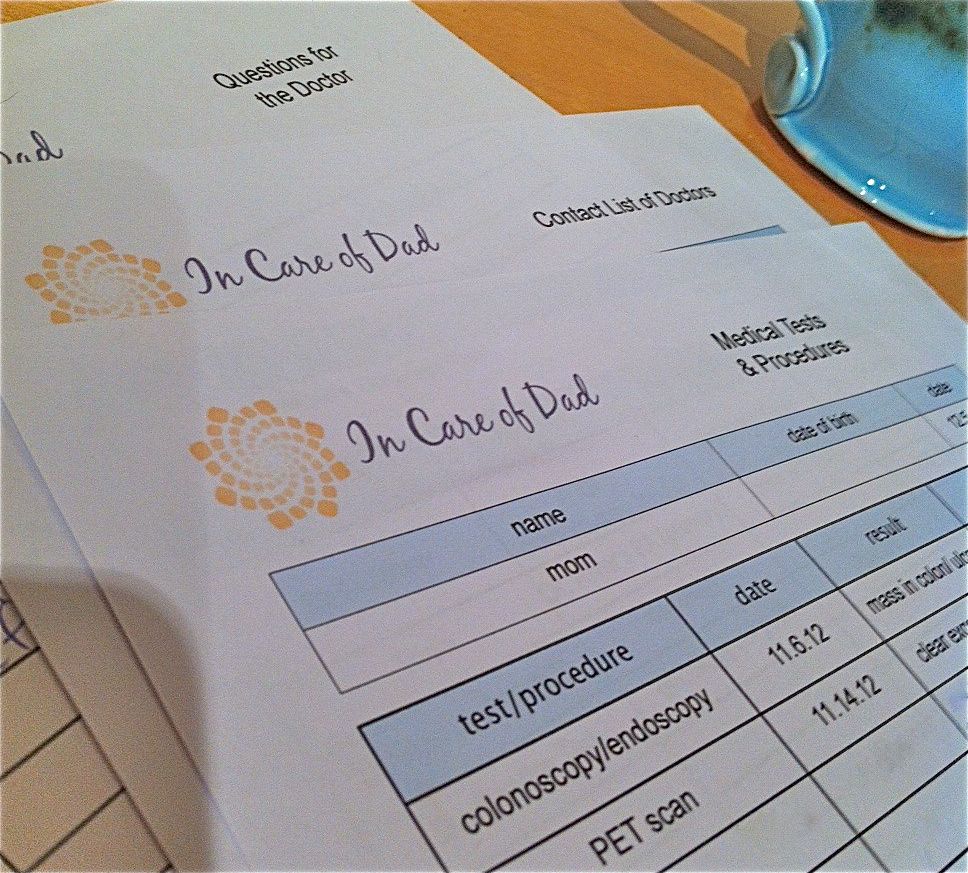 by Kim Keller
Well, here we are again, facing another one of life's unexpected challenges. It's about our mom this time — she was just diagnosed with colon cancer. There is good news, though: the doctor says we caught the cancer at an early stage, so Mom's prognosis is bright. As you can imagine, that's a huge relief to Karen and me. We are both extremely grateful.
Mom, who was our Dad's caregiver for many years before he died in 2006, had a stroke three years ago. She was left with aphasia, which means that all her communication skills, including how to speak, read, write, tell time, count money, etc., were either damaged or wiped out. That's when Karen and I put to work the principles and guidance we had advocated through In Care to Dad and, in combination with our mother's natural strength and determination, we were all able, and heartened, to witness Mom's recovery from the stroke.
Now we have another opportunity to put In Care of Dad to the test. Naturally, we're hoping to have the same kind of success this time with her cancer, so, to get ourselves organized — which I've always recommended as a first step — we've just put together our first "things-to-do-to-help-Mom" checklist.
Take a look.
Find a great specialist who is also associated with a quality hospital, preferably a teaching hospital. Remember: the closest hospital isn't necessarily the best, it's just the most convenient. Here's our list of qualities we look for in a doctor.
Go to the Mayo Clinic's website to learn more about colon cancer. Write down the questions suggested in "Preparing for your appointment." And pay special attention to the sections entitled, "Treatments and drugs," "Alternative medicine," "Coping and support," and, of course, "Prevention."
Start a notebook for the sole purpose of documenting just about everything dealing with Mom's care, like notes from phone calls, details from a doctor's appointment, questions for the doctor, medical expenses, medication questions, etc. Frankly, there is no detail too small to include in the notebook.
Remember to take Mom's updated medication list, which includes all of her prescription drugs, vitamins and over-the-counter meds, to each new doctor we encounter on this road to recovery. Here's what we include on her medication list. Also, bring all of her medications along with us to each of the various doctor appointments.
Ask these questions each time one of her doctors wants to prescribe a new medication. We must be vigilant about trying to limit the number of medications Mom is taking. A difficult challenge, yes, but important. Medications often bring along serious side effects, and too many medications increase the risk of adverse impact.
Question the purpose and the necessity of each test and procedure. Mom shouldn't have to be poked and prodded any more than is absolutely necessary. And every time a test is given, we must diligently follow up on the results. Don't count on "no news being good news." No news could very well mean that the results have been lost in the shuffle. It happens — medical teams are overworked.
Ask for copies of all reports and keep them together in a file. Also, create a list of the dates and outcomes of all tests and procedures.
Create a support team around Mom. We aren't going to be able to do everything, so reach out to people who might be able to help both practically and emotionally. We'll start with emotional support first, then once a treatment plan is developed, we'll assess what else will be needed.
Talk with Mom's doctors about realistic treatment options and expectations. Also, talk about prevention recommendations. Since Mom is on Coumadin, an anticoagulant, we need to ask the doctor about safely changing her diet to incorporate more cancer-fighting foods, like fruits, vegetables and whole grains. Since fruits and vegetables are natural blood thinners, we need to make sure that her blood levels are monitored more closely until they stabilize.
Take a deep breath. We can't get too far ahead of ourselves. Remember: bird by bird. Deal with what we know, plan ahead, but always stay in the moment, in this moment right now.
The best way to help our mom is to be there for her, and to remember these fundamentals: Keep the information organized, keep the communication flowing, and ask for help whenever we need it.
Wish us well. We'll keep you posted.
Kim Keller is the Co-Founder of In Care of Dad.  She lives and works in New York City.