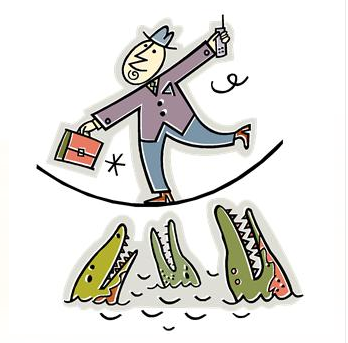 by Amanda Romaniello
When my grandmother died suddenly in the summer of 2006, shock waves rippled through my entire family.  At 74, she had already survived so many other health scares that we just weren't prepared for her passing.
In reaction to the loss, I noticed that my family began to hover over our widowed grandfather.  The loss of our grandmother made us all want to hold onto our grandfather that much more tightly –- to protect him and keep him out of harm's way.  With the best of intentions, our family began to make decisions for him, suggesting he abstain from activities we felt were a potential risk to his health, like moving heavy items or mowing his lawn.
In my experience, this story is not unique.  Friends and colleagues have shared with me similar stories involving their own families.  Most often triggered by surgery or a serious health issue that impacted their loved one's ability to do what they once did, friends say they were constantly telling their recovering elders, "Don't try to do that yourself" or "No, you can't do that."
It's clear that these words are meant with love and a desire to protect, but I believe they may be inherently counterproductive.  The attempt to guard our elders against further harm may not actually improve their health nor increase their life span.  This tactic may keep them physically safe, but what does it do for them socially and emotionally?  To their ability to remain independent and see themselves as strong capable individuals?  At what point do you stop allowing a person to fall down and pick themselves up again, in both a genuine and metaphorical sense?
This same basic idea applies when raising kids — we can keep them from bodily harm but in what ways are we stifling their growth as independent beings?  With our parents (or grandparents in my case), could it be that we are actually speeding up the aging process?  Pushing our elders to a point where they are no longer independent functioning individuals?  It may be that allowing them to continue to mow the lawn, take day trips, drive in the dark, or even fly to Florida to visit friends are the very things that keep them feeling young and energetic.
In the end, my grandfather made it clear, in no uncertain terms, that he was not going to allow our fear of losing him to stand in the way of him living his life.  Not all people are as capable of voicing their opinion, however.  There is a entire spectrum of different responses to this same situation.  I've heard stories of aging parents becoming despondent or depressed with the feeling that their role in life is diminishing.  I've also heard someone say they found their father teetering dangerously on the kitchen counter, stretching up to replace a ceiling bulb just to prove that he was still "in charge."
A few helpful hints to remember:
Speak openly and frankly with the family member you are taking care of regarding their needs and wants.
Ask them what they believe they are capable of handling and/or managing for themselves.
Ask them simply, "How can I help?"  Sometimes just asking the question is enough to show that you haven't forgotten their role in their own lives.
Amanda Romaniello is a clinical social worker with Family Centers' clinical and mental health program.  With offices in Greenwich, Stamford, Darien and New Canaan, CT, Family Centers is a United Way, Community Fund of Darien and New Canaan Community Foundation partner agency that offers counseling and support programs for children, adults and families. For information, call 203-869-4848 or visit www.familycenters.org.