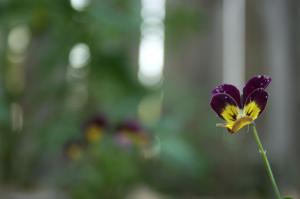 by Rebecca Lippel
For nearly 62 years, Grace, a robust 82-year-old, has lived in her home in Stamford, CT.  She and her husband, Hank, bought the house and raised their three children there, but in the years that followed, the children grew up, moved out and started their own families in different parts of the country.
Sadly, almost two years ago, Hank passed away, leaving Grace with virtually no companionship.  Now, when she speaks with her children, who check in throughout the week, Grace tells them she is doing great because she doesn't want to be a burden.  Many adult children become caregivers to their aging parents, but, while some live locally, many others live a good distance away, and it becomes very hard to determine if an aging loved one is suffering from isolation.  There are ways, however, to get involved and reduce the tragedy of senior seclusion, no matter where the adult children are located.
The role of a caregiver is a challenge that many do not anticipate and cannot prepare for.  As an adult child providing care for an aging loved one, you are likely to be pulled in a hundred different directions every single day, even though your overriding concern is simply to provide the best care you can.  It is no secret that the number of older adults is increasing dramatically in the U.S.  Roughly 11.3 million older adults presently live alone, which naturally increases the chances of isolation among the people fitting this description.
This is especially difficult in a suburban community, where single-family homes are more common, where the absence of affordable and comfortable public transportation may contribute to a forced seclusion.  In urban residential areas, such as apartment buildings, it is easier to identify older neighbors who may be facing this kind of struggle, but recognition is only the first step.  Someone still needs to reach out and make a difference.
Perhaps your loved one suffers from a physical impairment of some sort that restricts their ability to get around, to get outside of their home.  As people age, they often become more insecure about their appearance and how they may look to others.  We all become slaves to vanity as our bodies age and change, so much so, in fact, that we almost become strangers to ourselves. This can lead to a generalized anxiety disorder among older adults, which surely impacts isolation by keeping seniors hidden in their homes and apartments.
As a caregiver you may work hard to remain connected with your aging loved one.  Maybe you even take turns with siblings.  This becomes incredibly valuable for those adults lacking a network of friends.  Studies have shown that the lack of socializing among older adults has a direct correlation to illness and creates an additional strain for both the loved one and the caregiver.  So, finding a neighbor willing to visit, or a representative from a senior center, in place of a family member, is a wonderful option to explore to keep your parent or loved one from the dangers of isolation.
Of course, the presence of dementia in an isolated senior is an even more troubling and complicated situation.  Those with dementia go through daily challenges that often require round-the-clock care and attention, but, fortunately, the number of seniors' suffering from various types of dementia has lead to a proliferation of resources, services and programs aimed at helping these individuals.  Many adult day-care facilities, for example, offer separate programs for those with Alzheimer's, including meals and activities geared toward memory impairment.  Senior centers, community centers and libraries have programming fitting this need as well, which provides an all-important opportunity for seniors to leave the home and socialize with others.  Finding these services in your local community is the very first step in creating a schedule of options for engaging a loved one.
When we think about the needs of seniors, we often think of transportation, access to medical care, trips to the grocery store and the pharmacy, and food delivery.  However, many often do not consider the value of social interaction, which is just as significant to the well being of an aging adult.
Some additional ways to help keep a loved one connected with the community are:
Visiting them; calling them frequently on the phone; or even just reaching out via email or social media, all of which will help in making them feel connected;
Inquiring how many visitors or callers they may get on an average week. If the total isn't many, and you don't live locally, research agencies that can offer a weekly companion visit or a reassurance phone call;
Researching local groups catering to seniors that offer socialization and educational events.  Make sure to look for something that meets the interests of the senior involved; and include them when possible in the process of selecting an activity or group; and
Helping them set up a computer in their home and providing a basic tutorial so they may interact with family and friends through the internet.
Isolation among older adults is growing everyday due to the astounding rate in which the general aging population is growing.  While isolation may indeed represent a challenge for caregivers, it can be lessened by getting involved in your loved one's daily needs.  This will help improve and maintain their very important quality of life so they may age with dignity.
Rebecca Lippel is a Gerontologist and the manager of Family Centers' Friendly Connections senior outreach program. With offices in Greenwich, Stamford, Darien and New Canaan, Family Centers is a United Way, Darien Community Fund and Community Foundation of New Canaan partner agency that offers counseling and support programs for children, adults and families. Family Centers is also affiliated with the Community Fund of Darien.  For information, call 203-869-4848 or visit www.familycenters.org