by Karen Capuciati Keller
"I stay awake for a long time and decide it's my turn to help take care of Grandma, just like she used to take care of me. I feel very grown-up. It feels good."
Such are the thoughts of the little girl named Claire in Grandma's Cobwebs: A Story For Children About Alzheimer's Disease, by Ann Frantti. It takes a while, though, for Claire to reach the level of understanding evidenced in the above quote. Claire can't quite fathom the disease at first. And that's the story of the book, tracing Claire's learning curve about Alzheimer's, from her denial that the disease has changed her grandmother in any way, to her witnessing episodes of forgetfulness and danger, to finally coming to grips with the "cobwebs" in Grandma's head. Like any youngster, Claire has trouble processing a disease she can't see any evidence of, but her world gets turned upside down when she begins to experience her beloved grandmother's struggle with memory loss. Claire's emotional disruption leads to a family reconciliation that opens the door to a new acceptance of Grandma's diminished capacities.
Grandma's Cobwebs is thoughtfully written and colorfully illustrated, and creates the opportunity for kids and adults to talk openly about what to expect in such a case, when someone in their own family has Alzheimer's. The book keeps the tragedy of AD on a manageable scale, as is appropriate for a children's book, yet offers valuable ideas for how kids might want to express their care and support for a loved one with the disease. The author, Ann Frantti, who recently retired after 22 years as an elementary school principal in upstate New York, clearly benefited from her background as an educator in the writing of this book — she has a keen sense of children's emotional reactions to troubling events. As it turns out, Ann and her sister were the primary caregivers for their mother, who had Alzheimer's. Indeed, she wrote Grandma's Cobwebs as a tribute to her mom, and she is intent on helping others navigate the changes in family dynamics that Alzheimer's disease can bring.
I started thinking about the impact of this disease on the children of families affected by Alzheimer's after a visit with my friend Lori, whose mother suffered from AD. Lori shared with me — with tears in her eyes — how proud she was of her teenage daughter Erika's compassionate support of her grandmother, right up until her passing in 2011. Erika always made a point to visit her at the nursing home at least three times a week. She would try to engage her grandmother with conversation, tell her about her day at school, show her the latest funky hat or earrings that she made or found in a thrift shop. She would slowly flip through old family photos, allowing her grandmother the time she needed to register the image and perhaps recall the memory. Erika stayed in each moment with her grandmother — she was truly present for her. This is what made Lori so proud of her daughter, and I agreed with my friend that this was the best gift Erika could have possibly given her grandmother.
As evidenced in Grandma's Cobwebs, and in my friend Lori's home, children can be the saving grace when a family is unsettled by the impact of serious illness. Regardless of age, from adolescents to young adults, children provide joy and unconditional love, and they teach us to live earnestly in the present.
Because Grandma's Cobwebs is expensive to purchase new on Amazon ($84), here are some options for enjoying the book for free:
The book is available to read online.
If you go to worldcat.org, you can see if your local library owns the title.
If your library does not have a copy, they can obtain one from the Greenfield Library at the Alzheimer's Association. Just ask your local librarian to contact the Greenfield Library at alz.org/library/index.asp.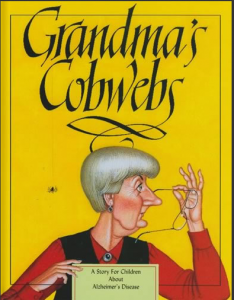 Karen Keller Capuciati is the Co-Founder of In Care of Dad.