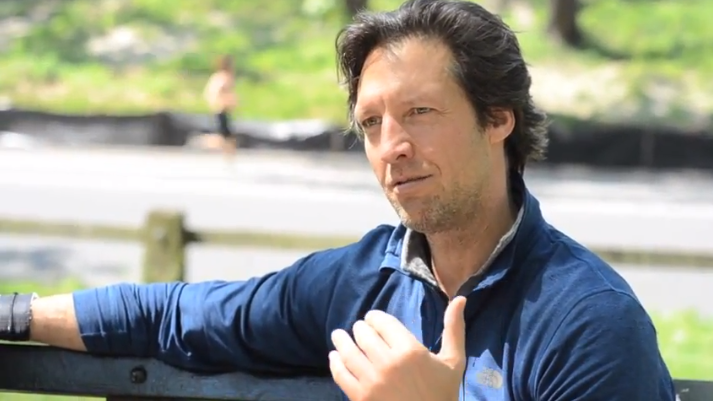 by Karen Keller Capuciati
"Living with a chronic illness. Improve your attitude. Improve your health."
This was the title of a lecture given by Alexander Tressor last Thursday in Stamford, CT. Alex was born in Russia and immigrated with his parents to New York City at the age of 17, where he undertook a career in dance, performing with the School of American Ballet, and later on Broadway.
Eight years ago, at the age of 46, Alex was diagnosed with Parkinson's disease. His life changed forever. For the better, he says.
"I wouldn't want to go back to the way I was before Parkinson's," Alex told me after the lecture. "I do so much more now. I enjoy those aches and pains — it means that I am still kicking."
As he sees it, "You can either fall apart or pick up and go. Slow down and hope for the pills to work or stand up and fight." Admittedly, it took a diagnosis as scary as Parkinson's disease to force Alex to step up and make taking care of himself his priority. Ultimately, Alex believes that thriving with PD is up to each individual facing the challenge, and he is eager to share his own regimen for making it work.
Adopt good diet habits.
Alex believes that eating good food and less of it has retarded the progression of his disease. Specifically, he only eats two meals a day, which, he claims, gives him more energy and keeps his symptoms at bay. He blends a fruit and vegetable smoothie in the morning and then eats a healthy dinner. "I think we all know what good food is," he explains. "You see mangos and bananas on a street cart — that's good food. You go to Wendy's for a vanilla shake — that's not good food. It's that simple." Essentially Alex believes in a moderate diet with normal-sized portions. He also does not eat after dinner. He believes that by not wasting his energy on digesting food, he gives his body a chance to relax. And this, he says, has really made a difference in helping him sleep, which is an area of concern for those with PD.
Exercise is crucial.
Alex insists on exercising six days a week, no excuses. He told me he has days when he feels pain and rigidity common with Parkinson's, but he exercises nonetheless. "It took so long to overcome all the excuses. There were so many . . . I'm too tired, I'm traveling, I don't have the right socks . . .  But just as excuses can trick you into not doing, you must trick yourself into doing." Everyone is able to do something, he says. If you can't run, lift weights or take a ballet class like Alex does, there are exercises you can do on the floor or in a chair. Do what you can. The key, Alex believes, is reward your small victories because they will accumulate into bigger victories and into ultimate success.
Find ways to reduce stress.
With Parkinson's disease, stress is omnipresent. For example, at the lecture Alex talked about the effort involved in hiding the symptoms when they appear. He mentioned being at a public event and the exertion that went into keeping the tremor in his arm under control so that people wouldn't notice. Not to mention dealing with the pain and leg rigidity he was also experiencing. At day's end he was totally exhausted because of the amount of energy this control had required. Learning ways to manage stress is important, especially with PD where stress, already a constant companion, can actually exacerbate symptoms.
Alex believes that life generally brings us stress, but it's our reaction to the stress that's important. Just as we feed our cells with good nutrition, it's vital to feed our cells peaceful moments as well. Alex suggested tapping into that tranquil feeling right before you fall to sleep. "It's a sense memory, not unlike muscle memory, that we know about as athletes. Or try concentrating on something we take for granted, like our breath. It works."
Choose your attitude.
Alex decided he had a choice. Instead of being consumed by fear, which was his initial reaction to the diagnosis, he chose to engage life. And that's exactly what he has done. He stays active and makes the right choices every day. He knows it doesn't come naturally, that you have to train yourself to meet the disease head-on. "Decide to accumulate positive things into your body," he advises. "Then follow the path you have chosen. Keep fighting. Don't stop. You'll be better for it."
Don't give in to obstacles.
After the presentation, Alex asked the audience if there were any questions. Naturally I asked how family and friends can best support those dealing with Parkinson's. After thinking for a moment, Alex said those of us supporting someone with PD should be empathetic and try to understand how the disease may be affecting them and limiting their options. But it is also good to urge that person to push through the obstacles and not give in to the symptoms. "You can not be an enabler. 'Oh, I feel so bad for you, let me help you.' No. It's always good to be inspired to work harder."
I applaud when a person like Alex can see a major life challenge as a gift. I thank him for sharing with us what Parkinson's has taught him and brought into his life, because it truly is a gift for us all. Take heed of your role in your own health. Push yourself. Acknowledge small victories. Choose your attitude. Reflect and enjoy your life, with whatever it brings.
Karen Keller Capuciati is the Co-Founder of In Care of Dad.