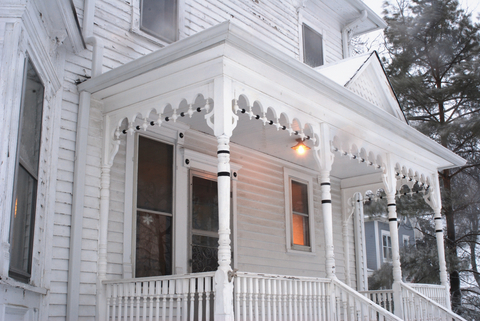 by Kim Keller
Like many of our friends' parents, our mom, who was our dad's primary caregiver, was resistant to having in-home care.  There were many reasons:  she felt that Dad was her responsibility; she was concerned about the cost; and she didn't want a stranger in the house.  We've also heard other friends talk about their parents' fear of relinquishing control of their surroundings, and losing their independence.
Here's what we did.  We started slow.  We got our mom to agree to in-home help for just four hours a week, for just one month.  If she didn't find it helpful, then we promised to stop bugging her about it.  But just one visit hooked her in, and she realized that she couldn't live without the help.  It wasn't too long before we had full-time care.  The added benefit for Mom was that she found comfort in having someone in the house she could talk to, off whom she could bounce ideas.  It made decision-making — which often required tough calls — a little less lonely for her.
There are four basic categories of caregiver:  skilled nurse (who would handle the taking and monitoring of vital signs, wound care, dispensing medications); home health aide (bathing, eating, bathroom assistance); home care helper (housekeeping); and companion (transportation to appointments, meal preparation, visiting, light housekeeping).  If you're using an agency for help, you may want to choose one that provides all four categories just to give yourself more alternatives in case your situation changes.  Be mindful that pricing varies depending on the caregiver's level of expertise and the time of day that caregiver is needed.  For example, a skilled nurse is more expensive than a home care helper, and overnight help is more expensive than daytime help.  Here are some factors you'll need to consider:
Can you get a doctor to order skilled-nursing assistance?  If so, Medicare, or some other types of insurance, may cover part of the cost.
Do you need someone to administer medications?
Do you need someone to bathe your parent (or other loved one)?
Is your parent (or other loved one) incontinent?
Does your parent need help getting from a wheelchair to bed?
Does your parent need meals prepared?  Housekeeping?  Laundry?
Are you looking for a part-time companion, someone scheduled to be there on a regular basis?  Or do you need a full-time, live-in companion?
Do you need someone to drive your parent to a doctor's appointment?  Run errands?  Take your parent to the grocery store?
Do you need someone to sit at the hospital or rehab center to provide more personalized care?  This was suggested to us when our dad kept falling out of bed and/or pulling at his IVs.
If you need someone there all night, do they need to be awake all night or just there in case something comes up?
Does your parent have any special needs?
Before you commit to using any particular in-home care agency, be sure to meet and interview whomever will be coordinating your services.  You will need to trust and rely on this person.  Have a list of interview questions prepared for your meeting.  Here's our list to help you get started.
What kind of results have you had with in-home care?  Sharing your experiences with the In Care of Dad community may help someone else make a better decision.
Kim Keller is the Co-Founder of In Care of Dad.   She lives and works in New York City.