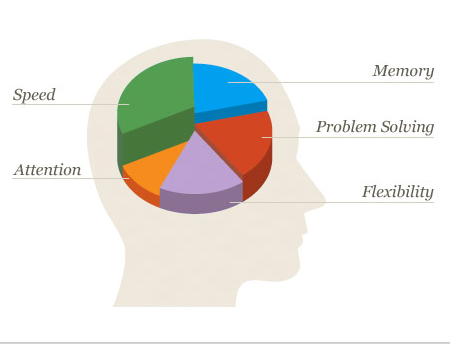 For the next few weeks, we are featuring some of our favorite blogs from years past. This entry was first published by In Care of Dad on August 11, 2011.
by Karen Keller Capuciati
So who doesn't have a story about their own silly forgetfulness? Searching for your eyeglasses when they're on top of your head? Forgetting you placed a cup of coffee on top of your car as you pull out the driveway? Or, in my case, leaving my new iPhone on top of my Jeep as I drove off.
Now that was dumb!
My first thought is always the same: Wow, this must be the onset of dementia. But the truth is usually less dramatic. More often than not, we're simply doing too many things at once and just too distracted for our own good.
Whatever the reason, wouldn't it be cool to actually strengthen our brains? To be proactive in maintaining, and even expanding, our cognitive abilities? Current research on the topic indicates that brain capabilities can be improved at any age, which is a huge relief for those of us getting into age brackets where forgetfulness is an everyday battle.
Well, there's a website called Lumosity.com that's full of innovative games created specifically to "reclaim your brain." The games are fun and scientifically tested to focus the brain in the following areas:
Speed: thinking faster, processing quickly.
Flexibility: multi-task efficiently, thinking creatively.
Memory: improving name recall, remembering more.
Problem Solving: improving quantitative reasoning.
The games are designed to gauge your level of brain functioning, and they increase in difficulty as you progress. Points are attained to help you establish your own personal goals.
Lumosity.com is not just a site for preventing brain degeneration but actually a useful tool for recovery from cognitive trauma such as strokes and brain injury. It was recommended to us by our friend, Graciela, who was Mom's roommate at Rusk Rehabilitation Center in NYC in the fall of 2009, where Mom went in the aftermath of her stroke. Graciela told me she feels that Lumosity has helped her in her recovery at home and she wanted to pass it along as an idea to help our mom improve her concentration and reading.
When you register at the site, there are a few questions you need to answer to personalize your training, such as, "What are your primary training objectives?" and "What cognitive skills would you like to improve most?" A new Lumosity account allows for 3 basic training sessions for free. Once the free trial ends, you still have access to about 10 games, but if you want the full array of training and progress-monitoring tools, an annual subscription is available for $6.70 per month.
We intend to get Mom set up with her own account. After playing some of the games on Lumosity ourselves, we are pretty hooked. Please let us know what you think of Lumosity.com, or if you know of any other sites or tools that offer the same benefits.
Karen Keller Capuciati is the Co-Founder of In Care of Dad.