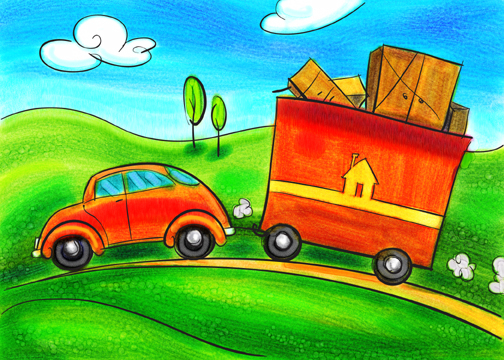 by Joan Blumenfeld, MS, LPC
"Moving out! Moving up! Moving on!" were the words printed on my change of address card.  Let me tell you why.
My kids were grown and gone.  My significant other of  26 years had died three and a half years earlier.  I was alone and lonely, rattling around in the high maintenance eight-room house where my children had grown up.  In remarkably short order I moved to a rental apartment half that size and sold the house I had lived in for 46 years.
I know some of my friends felt sorry for me.  They thought "down-sized" with all the gloomy intimations of a lesser life.  But I actually "right-sized" my living space, renewing and refreshing my quality of life.
Here's how it happened:
For months I had been driving past the huge new apartment complex being built in the next town, paying no attention to it.  But one day the sign saying Luxury Apartments for Lease leaped into my consciousness.  I thought, "What if I sold my mortgage-free house, carefully invested the proceeds and rented a smaller space in a maintenance-free, ready-made community?"
The idea startled me and caught my fancy!
The very next day I asked a friend to come with me to look at the apartments.  I really expected to find them cramped, expensive and altogether unsuitable.  How wrong I was.
The complex was elegantly appointed.  The public rooms were decorated with taste; the Olympic-sized pool sparkled in the sun in the center of a large patio that looked just like a Ritz Carlton Hotel.  The brand new apartments were spacious, bright, welcoming and positively magical.  It was love at first sight!  I could easily imagine myself living there.
Within the week I made up my mind to do it.  I put a small deposit on a two-bedroom apartment.  I put my house on the market and prepared to move.
I hired someone to clean out the attic and the basement.  I cleaned out 46 years of accumulated mementos, outgrown toys and clothes, and broken machines that never got repaired.  I shredded dozens of boxes of outdated and useless documents.
My children took what they wanted.  I packed everything else with meaning and significance so that my new home would have deep connections to my life history.  The rest I gave away, sold or sent to the dump.  I had the fun of replacing dark old furniture from the 1950's with light young pieces from Crate and Barrel, delightfully combining the old and the new.
Now I live in a small, diverse community where connections are easily made.  I no longer have home maintenance worries.  Instead of grooming an acre of land, my garden now consists of five pots out on my balcony, with a succession of blooms from pansies in April to begonias in June to mums in September.  No more woodchucks, deer or moles destroying my landscaping efforts.
For me it was the perfect move at the perfect time.
Pearl of wisdom:  Older adults might want to consider moving to more manageable living spaces while they are healthy enough to enjoy it, rather than waiting until poor health dictates a different kind of move.
Joan Blumenfeld is a Geriatric Care Manager based in Fairfield County, Connecticut. For information visit her web site at joanblumenfeld.com. © 2010 Joan Blumenfeld.