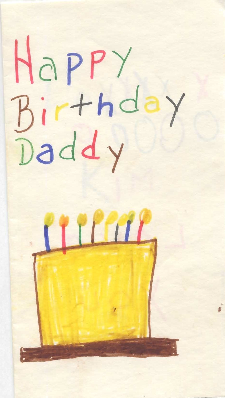 by Kim Keller
Happy Birthday, Dad!
Today he would've been 82 years old.
I found the birthday card pictured above in an old box of photos and letters.  I must have made it for him almost 45 years ago but I have no memory of ever seeing it before, much less writing it.  I was so surprised to find it in the box, I'm convinced my dad was watching me relive old memories yesterday and sent it down to me straight from his personal collection in heaven.
I once asked my father, "Dad, what was your favorite memory of grandpa?"  He thought for a brief moment, and then told me how, when he was five years old, his father woke him up in the middle of night and quietly snuck him out of the house to watch the circus roll into town.
There was sheer delight in his eyes as he shared that still-magical moment.
My father, Edward, was born on January 29, 1930, to Lula and Lee Keller. Ed grew up in Fulton, New York, one of five kids,  and the eldest boy.  My father was always a hard worker — a lesson he surely learned from growing up on a farm.  He was dependable and loyal, and he had a generous big heart.
But what I loved most about my father was his enthusiasm for life.  He appreciated every minute.  You can see that on his face just opening a present.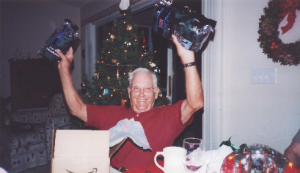 Ed loved his rose garden, his bird feeders, my mother's spaghetti and meatballs, and the taste of a rob roy.
He also loved music, and his taste was eclectic:  Patsy Cline, Neil Diamond, the Three Tenors, Johnny Mathis and Beethoven were some of his favorites.
Dad was an avid golfer and swimmer.  He was a Yankee fan.  He would've been confused over who to root for in the upcoming Super Bowl because, as a Connecticut resident, he loved both the Giants and the Patriots.  Most weekend afternoons you could find him watching sports on TV, enjoying a bowl of vanilla ice cream with Hersey's chocolate syrup and Spanish peanuts sprinkled on top, or a beer with potato chips and onion dip.  For an otherwise healthy eater, he'd try to sneak some of these treats past my mom, but she would usually catch him and he'd just chuckle at the predictable junk-food reprimand.
My favorite memory of my dad came during a trip to Italy with my parents in May of 1997.  We had just arrived in Positano, having survived that crazy drive through the hairpin turns of the coastal cliffs, one of the few times in my life I actually felt like I was in a James Bond movie.  My father was thrilled driving that road, and I don't think he even noticed my mother's freaking out in the backseat!  At the hotel, she went straight to their room to lay down and recover, while Dad and I went down to the terrace overlooking the sea.
We had a cold glass of Italian white wine and marveled at the sheer beauty of the surroundings.  After taking it all in for a few minutes, he grabbed my hand and looked straight at me with a tear in his eye.
"Thank you, Kim, for bringing me to the most beautiful place I've ever seen," he said. "This must be what heaven looks like."
Even the waiter was touched.  That beautiful memory still makes me cry.
We love and miss you every single day, Dad.  Thanks for teaching us what's important in life and showing us how to make the most of every day.  I hope heaven turned out to be everything you imagined.
Until we meet again,
Kim and Karen    xxoo