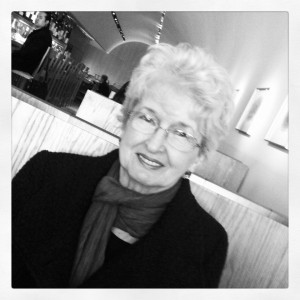 by Kim Keller
Our mother flew up from Florida last week to visit with Karen and me.  Maneuvering the travel all by herself was quite an accomplishment considering she had a stroke in September 2009.  Healing time, enhanced by her extraordinary commitment to hard work, made the visit possible.
The stroke left Mom with what's called aphasia, which means her ability to communicate was damaged.  Specifically, she has difficulty finding words — nouns, in particular.  Mom knows, for example, that a flower is a flower, but she may have a hard time actually retrieving the word when she wants to say it.  Not only has she struggled finding her words when she speaks, but she has also had to re-learn how to read, write, tell time and calculate simple math.  It's been a long, exhausting, frustrating journey back.
One of the things that Mom most wanted to do while visiting us was return to the Rusk Institute of Rehabilitation Medicine at NYU Langone Medical Center here in New York City.  Rusk is where we brought Mom after her initial hospital stay in Florida in the immediate aftermath of her stroke, and it's widely recognized as one of the best rehab facilities in the country.  Mom remembers this time at Rusk fondly, which, of course, amuses Karen and me since it was such a struggle to convince her to go.
Now, two and a half years later, Mom considers her Rusk experience as one of the real keys to her recovery.  Reflecting on her hard-fought recuperation over lunch near Lincoln Center, just before our visit to Rusk (that's our mom pictured above), she offered the following suggestions for anyone who has suffered a stroke:
Go To Rehab — It's the best way to build a solid foundation for recovery.  Though Mom initially wanted to go home where she felt safe, the Rusk Institute helped her understand how much work was ahead of her, without scaring her away, and then provided her with all the direction and tools she would require.  It was an education for all three of us, but one we clearly needed.
Don't Give Up! — "It's a struggle, and I'm exhausted doing the work," Mom said.  "Everyday I wake up thinking, 'Okay, today everything is going to be the way it used to be.'  And then it's not.  But I just can't give up.  I want to be better.  I keep telling myself, 'You have to do this, Sandra.'"  Mom's determination is inspiring, and it makes Karen and me very proud.
Be Grateful For What You Can Do — "I have to remind myself that, even though what I'm going through is hard, it could be worse.  I need to focus on what's positive," she explained. "Otherwise I couldn't keep going.  And I really do have so much to be grateful for."
Laugh A Lot — This suggestion made me ask Mom if that's why she watches reruns of King of Queens and Everyone Loves Raymond most nights on TV.  She said, "Yes! You've gotta laugh. And I laugh at all the silly things I do since the stroke.  I laugh at the words I get wrong, or when I can say a long, complicated word but I can't say some easy, small word."  I love her attitude, and try to bring some of that perspective into my own life.
Exercise — One of the more unexpected outcomes of Mom's stroke is her new interest in regular exercise.  She was always a swimmer, but she never was much for the gym.  Her interest was sparked at Rusk, where she loved her physical therapy classes so much that she now incorporates twice-weekly visits to the gym into her schedule.  Mom now reports with a big smile that she's going to add on a yoga class as well.  She says, "Exercise helps me stay strong and feel good, so that I can keep working on getting better."  Our dad, who worked out regularly, must be smiling down from heaven!
Work Hard — Mom puts in the effort every single day trying to get better, and it shows.  She used to work diligently on the homework she received from her speech therapist, and she'd spend hours going over the flash cards Karen made to help Mom "practice her words."  Now she's graduated from speech therapy, but she continues to work on her communication skills.  Our mom is a good student.  She's back working on crossword puzzles, which amazes me.  She continually pushes herself to do more and to do better.
Pray — "I pray all the time," Mom explained.  "I pray that I'll keep getting better.  I pray that I will find the strength to keep going and doing the work that I need to do."
It was fun to accompany Mom on her return to Rusk, and to watch her interact with all the people who helped start her on the road to recovery.  It's always good to look back and see just how far you've come.  That goes for all of us, in every walk of life.  As for her friends at Rusk, they were genuinely excited to see the tremendous progress our mom has made.  She's a genuine inspiration!
Kim Keller is the co-founder of In Care of Dad.  She lives and works in New York City.