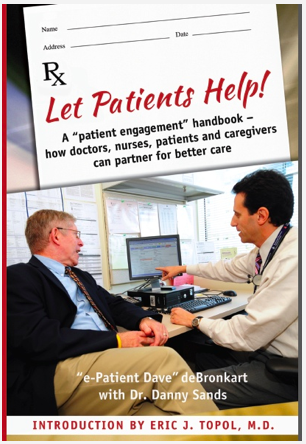 by Kim Keller
Let Patients Help! is the title of a handbook written by a leading patient-engagement advocate, Dave deBronkart, better known as e-Patient Dave. With the assistance of Danny Sands, his primary care physician, deBronkart created this easy-to-read and practical guide to help doctors, nurses, patients and caregivers learn how to work together as partners, which is the ultimate prescription for quality care.
A little background: In January 2007, after a routine visit to the doctor, deBronkart was given devastating news — he was diagnosed with stage IV kidney cancer and told there was little hope he could survive it. That's when e-Patient Dave was born.
With no known treatment available, deBronkart started his research, desperately hoping to find some little-known treatment option that might save him. Sure enough, that's exactly what happened: he found an online patient community — acor.org — that told him about a clinical trial at Beth Israel Deaconess Medical Center in Boston. By July 2007, deBronkart's treatments were over, and by September it was clear that he had beaten cancer.
Dave deBronkart learned firsthand the power of participating in one's own health plan. He has been on a quest ever since to encourage and teach anyone who will listen that participatory medicine is the cornerstone of effective medical care.
DeBronkart explains that an empowered patient should always ask: What can I do? Meaning, how do I get involved in my own care? Well, reading deBronkart's Let Patients Help! is a great starting point.
Here are just some of e-Patient Dave's valuable pointers from his handbook:
Find doctors who are not only willing to listen, but who are also able to communicate with clarity, so that people like you and I can actually understand them. This means a doctor who can not only explain the diagnosis, but also detail your test results and lay out the pros and cons of any and all treatment options.
Ask your doctor questions like: "What's the standard of care for my condition and when was that last updated?"
"How strong is the evidence?"
"Are there any other options?"
"What if I choose to do nothing?"
Learn everything you can about your illness. There's a lot of helpful information on the Internet, but there's an awful lot of misinformation, too. Dr. Sands contributes a section on how to evaluate the reliability of medical websites. Two of the more responsible sites he recommends are the Mayo Clinic and MedlinePlus.
Get your hands on your complete medical record, carefully read through it, and be sure to point out any errors or provide any information you feel is missing or incomplete.
Ask the cost of each medical test, procedure and treatment, which, as Dave likes to point out, nobody really seems to know. You may not get immediate results, but the hope is, eventually it makes us more responsible healthcare participants and creates more transparency in the system.
There's no doubt that doctors are the experts in medicine, but you are most certainly the expert on you. Filling in those information gaps for your physician is an essential part of receiving the best possible care. An "all hands on deck" attitude should be welcomed when your health is at stake. Don't be reluctant to speak up, and never feel like you're imposing on a doctor's time by bringing up a personal point of concern.
This is your body! It's the only one you get!
I hope you'll take time to read e-Patient Dave's handbook. It's constructive and rewarding, and you can buy it here. And if you haven't seen deBronkart's TEDTalk, I encourage you to click on the link below. It's one of my most favorite talks of the entire TED catalogue, and ranks in the top half of their most watched videos of all time.
Kim Keller is the Co-Founder of In Care of Dad. She lives and works in New York City.