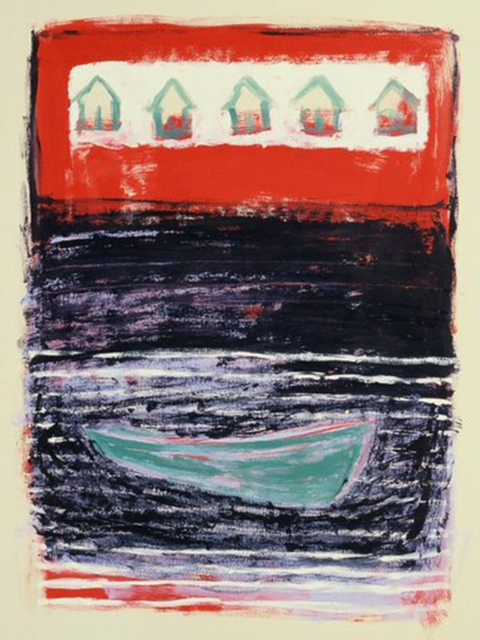 by Judy Prescott
Cecy was diagnosed with early-onset Alzheimer's disease at the age of 65. She lived alone at the time, in Maine, while I was living in Los Angeles where I work as an actress.  It was desperately hard to be so far away from Mom.  I flew back once every month or two to stay with her and try to find a way to keep her safe while she navigated the early stages of the disease.
I first noticed that something was happening to Cecy when she flew to my wedding in Santa Barbara and got lost in the airport.  Fortunately, another of our wedding guests intervened when he overheard Mom telling a ticket agent that she was trying to get to a wedding.  The other guest asked where she was headed, and kindly took her in hand when he realized they were going to the same place.
Over the wedding weekend, Cecy was reclusive and fearful.  After my honeymoon, I traveled to Maine to stay with Mom for a bit to see what was going on.  I noticed that she wasn't able to handle her bills the way she used to — stacks of paperwork were lined up against her bedroom wall.  She wasn't eating well and her anxiety was escalating.  These behaviors prompted me to take her to the doctor to have her situation evaluated, which led to her eventual diagnosis.
It was really difficult to leave Mom after each visit and return to my life in Los Angeles.  I worried that Cecy wasn't safe and needed looking after.  I began writing poetry to explore these feelings of helplessness and uncertainty, and this creative outlet helped me feel connected to Mom even though she was so far away.
Once, early on, when I was in Maine visiting Mom, I decided to take her to see a movie.  We drove to the local theatre where Finding Nemo was about to begin.  I figured this would be a perfect movie for Cecy — funny and upbeat.  I had no idea that Dory, the little blue tang voiced by Ellen Degeneres, had a short-term memory problem.  Lucky for me, Mom took no notice of the actual plot and spent the entire time going through her purse.
There's a really funny bit in the film where Dory, who had been swimming in a steady stream of turtles for quite a while, kept looking around and saying, "Hey, look, turtles!"  This became sort of a catchphrase for our family.  It was such a perfect and yet humorous depiction of short-term memory loss.  "Hey, look, turtles!" could make the darkest of situations seem more manageable.
Finding the humor in this journey has made it an easier one for me. I try to hold on to the many hilarious moments that have happened along the way. Cecy always had a quick wit, and I know she would appreciate the funny moments now if she could.  Humor can help us to learn to let go and allow another person their journey.  I've also found comfort in my poetry.  Poetry has been my way of bearing witness, of celebrating the life of the remarkable woman who is my mother.
In Care of Dad is proud to present one of Judy Prescott's poems from her new book, Searching For Cecy.  Each poem in the book is matched with a piece of artwork by one of Cecy's family members.  This poem, called "Proof" — one of our favorites — is displayed with the acrylic painting pictured above, created by Anne Gresinger, Cecy's niece.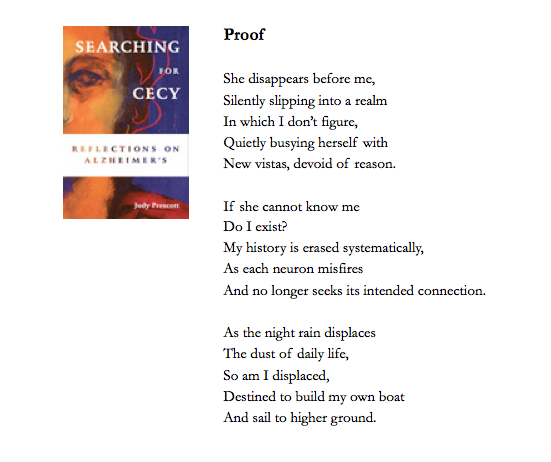 Judy Prescott is a poet and actress living in Los Angeles.  Her most recent TV credits include Grey's Anatomy and True Blood.  Judy's book is available at her website — www.judyprescott.com.  A percentage of the proceeds from the sale of this book will be donated to the Alzheimer's Association, Maine Chapter.