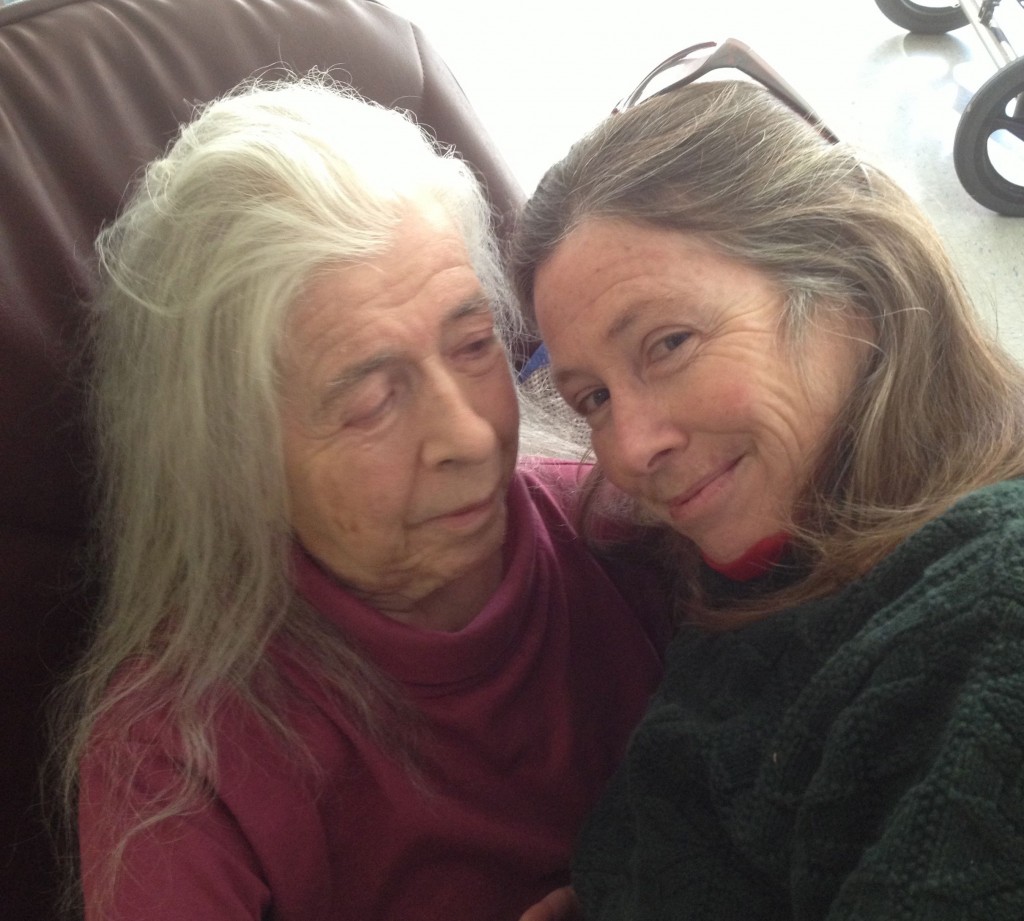 In loving memory of Marianne Whitman, we are re-running this blog written by her daughter Beth for In Care of Dad two years ago today.
by Beth Whitman
I was thinking about last Monday, when I visited Mom. It was dinner time, and I noticed that she was holding her cup of chocolate milk up to her lips, and trying to drink, but she couldn't figure out how to tip the cup so that the milk would get to her mouth. I put my hand on hers and helped her tip the cup. She drank deeply, almost finished the whole thing in one go. I refilled the cup, and again she couldn't figure out how to tip it toward her mouth. So I helped her again. And after a couple of times, her hand began to remember the motion and she was able to do it herself. But she put the cup down, and when she picked it up again her hand had forgotten.
The process of saying goodbye happens over and over again in little ways. But today it happened a big way. Today she died.
I did not wake up this morning expecting to have my mom die today.
I feel somehow a little guilty.
I got the call this morning. The night nurse called as she was going off duty, and said that Mom had taken a turn for the worse during the night. She wanted to make sure I knew before she left for the day. I had been walking Pippin in the pouring rain. I was soaked through and the rain was seeping into my shoes. I told my friends that I was walking with, "My mom is dying."
One of them said, "It is a full moon tonight. Full moons are a good time for passing."
Yes.  A good time for passing.
This past Saturday, when I woke up at 6:30 in the morning, I went in to Dad's room to find him fully awake and dressed. Shoes on and everything.
"We need to go to Goodwill to buy a blue suit," he said.
I had a mountain of work to accomplish that day, but I said, "Okay, Dad, I will call our friend, John, and see if he can take you to Goodwill today."
John, bless him, was up for an outing with Dad and came by mid-morning.
A couple of hours later they returned. Light blue pants, light blue shirt, somewhat darker blue blazer, and blue tie.
Dad changed into the outfit, and everything fit perfectly.
He wore that suit the rest of the day, and again the next day. And the day after that (Monday), when the call came that Mom was failing, Dad put the suit on again, and we went to sit with her until she passed.
I think somehow he had known.
And I remembered back to something my dad had said a few years ago, when he was having trouble with the circulation in his feet. I had been massaging his feet, trying to get them warm again and the swelling to go down. I started crying. And, somehow, even though my back was turned to him, he knew I was crying.
"What's wrong?" he asked.
"I don't know," I said, and I laid my head against his leg and just let the tears come.
"You know, this is how some people die," he said. "A little bit at a time. First, it's their leg, and then some other part of them, and then a little bit more, and a little bit more every day."
I think I am a little stunned, I think maybe in shock a little.
Mom's death feels really weird. And really sudden. Even though it's been coming a little bit at a time, for a long time now.
Beth Whitman lives in Maine and is a member of Belfast Cohousing and Ecovillage, a developing community on the coast of Maine focused on multigenerational living and sustainability.
Beth would like to thank the staff at the Glenridge Long Term Care facility in Augusta, ME, for their devoted and loving treatment of her mom.