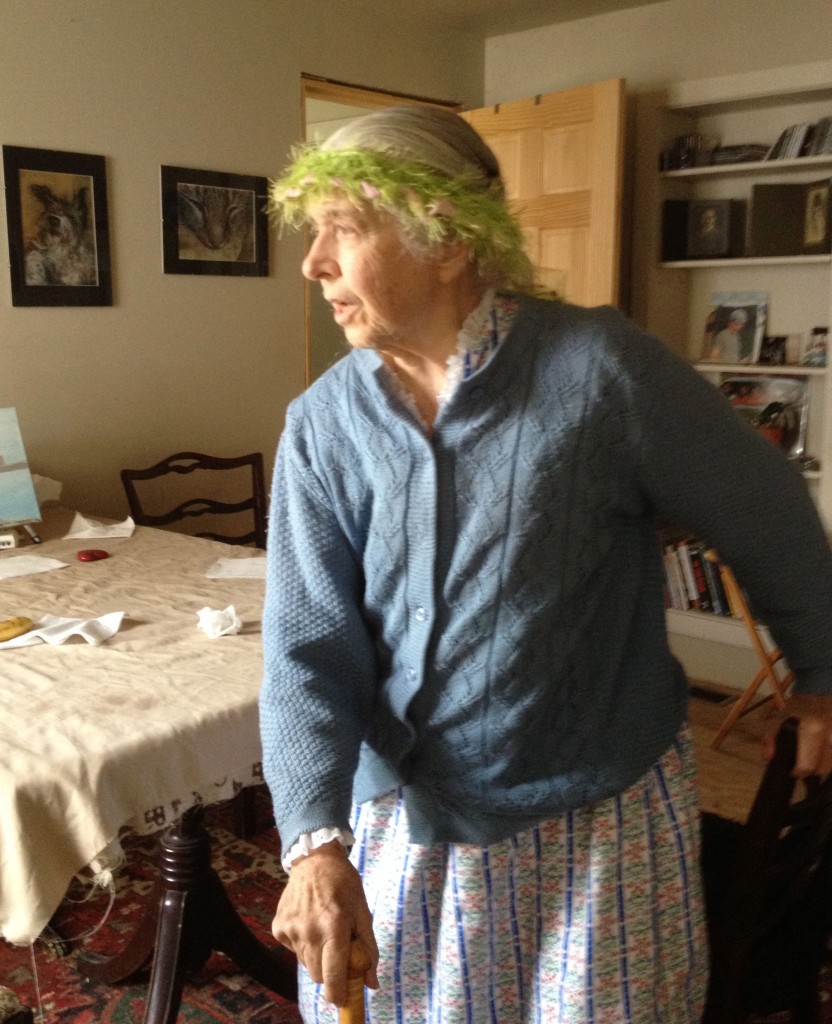 by Beth Whitman
Mom has developed quite a sense of style as she moves deeper into Alzheimer's.  She has her favorite items that look great on her — the baby blue sweater (of which she has an identical pair, so when one gets dirty, we're able to sneak it off of her and wash it without her getting upset about not having her sweater), the bright red t-shirt (also two), and the bright purple scarf are among her most distinctive items.
A friend who has gotten to know her more recently said to me, "Your mother must have been quite the snappy dresser when she was younger."
But that is actually not the case.  I have noticed this distinctive style developing only lately.  She knows how to mix and match, and even when she puts her underwear on over her other clothes, somehow it looks great on her.
And the hats!  Oh, the hats!  No one wears a hat like my mother.
Mom can make an elegant hat out of anything these days, sometimes much to the embarrassment of my father.  I think the day Mom wore the laundry basket on her head throughout her entire art class was when Dad finally came to terms with the fact that the Marianne he knew was irretrievably disappearing.
Mom was having fun and everyone in the art class was interacting with her as though the laundry basket on her head were a normal everyday thing, but Dad abruptly put down his paints and brushes and, shaking his head, retired into the next room.
I followed him, knowing something was wrong.
"Why does she have to embarrass me like this?" he said angrily.  "She is making a fool of herself and making me look like a fool as well!"
And to fully understand the impact of this, you have to know that I can count on my hands and feet the number of times I have ever heard that edge of anger in my father's voice.
"Dad," I said, "everyone has the utmost respect for you and how gentle and kind you are with Mom.  Everyone here understands what is happening, that Mom is becoming more and more like a child every day.  And they all think you have amazing patience and love."
The look he gave me was telling.  It had finally sunk in — the last remnants of denial were gone.  I gave him a hug, and as I left the room, I knew he was crying.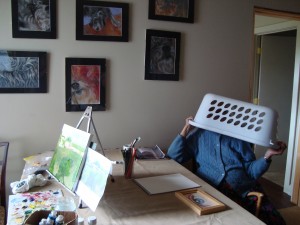 Beth Whitman lives in Maine and is a member of Belfast Cohousing and Ecovillage, a developing community on the coast of Maine focused on multigenerational living and sustainability.