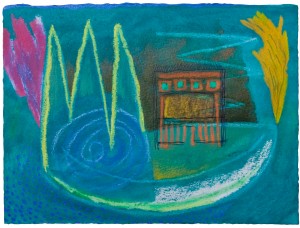 by Judy Prescott
This article was originally published at MariaShriver.com and is being republished with permission.
Despite having witnessed Cecy's 12-year journey through the rough seas of Alzheimer's disease, her recent death came as a surprise.
I knew I was losing her, certainly.  I'd been informed that a seizure would probably take what was left of Mom's magnificent life force, yet I was completely blindsided.
There is a bit of magical thinking required to endure such a complicated journey with a loved one.  We tell ourselves, she "looks great," she's "healthy as a horse," she's "gaining weight."  How else could we manage such a slow, painful descent into the maelstrom?
I am not one who ever thought of my beautiful mother as just a shell of her former self.  Cecy's fiery Irish spirit was always evident in those impossibly blue eyes.
Cecy gave me the incredible gift of her continued presence, despite the anguish it caused her, by always keeping one foot planted firmly on this earth. She went above and beyond to help me feel her love and encouragement, regardless of her own physical limitations.  She knew that I was able to see her and that she continued to make a difference in my life.
Although we lived on opposite sides of the country, my connection with Mom remained strong throughout her illness.  She was part of my daily consciousness.  Cecy was part of me.
A few weeks before Mom died, I looked out our window onto the deck and was hit with a sudden image of her as she had been, before her illness.  I was unsettled by this vision and wondered why, after so many years, I was remembering Cecy as she once was, something I seldom did.
So how is it that Mom's passing came as a complete shock to me?  Perhaps, after bearing witness to Cecy's long, arduous struggle, I thought she could overcome anything.  Her courage and patience inspired me to believe it.  After a series of close calls, I'd become immune to the possibility of losing her. Magical thinking.
It becomes quite a muddle for those of us whose lives have been touched by Alzheimer's to figure out how to mourn.  There are so many goodbyes along the way, and many different aspects of our loved ones we wish to remember, both before and after the illness.
As a long-distance caregiver, I became accustomed to interacting with Mom on a more spiritual level.  I relied on that connection and felt her with me at all times.  When I couldn't be in Maine with my mother, I was able to speak to her on the phone or via Skype, thanks to the extraordinary kindness of her caregivers.  My five-year old daughter and I were fortunate enough to have skyped with Cecy for an hour on Mother's Day, the day before she died.  These remarkable caregivers called me early the following morning and held a cell phone to Mom's ear so that I might speak to her as she lay peacefully dying, the result of a sudden seizure.  I am forever in their debt for that call.
Writing poetry has been my way of understanding and honoring Cecy's journey. Now that she is gone, I realize that I must find yet another way to connect with her.  I am still Searching For Cecy.  Mom often wished she were a seagull.  Perhaps I just need to readjust my gaze . . . upward.
In Care of Dad is proud to present one of Judy Prescott's poems from her book, Searching For Cecy.  Each poem in the book is matched with a piece of artwork by one of Cecy's family members.  This poem, called "Firefly" — one of our favorites — is displayed with the mixed-media-on-paper artwork pictured above, created by Anne Gresinger, Cecy's niece.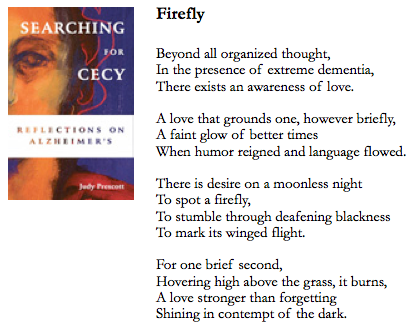 Judy Prescott is a poet and actress living in Los Angeles.  Her most recent TV credits include Grey's Anatomy and True Blood. Judy's book is available at her website — www.judyprescott.com.  A percentage of the proceeds from the sale of this book will be donated to the Alzheimer's Association, Maine Chapter.