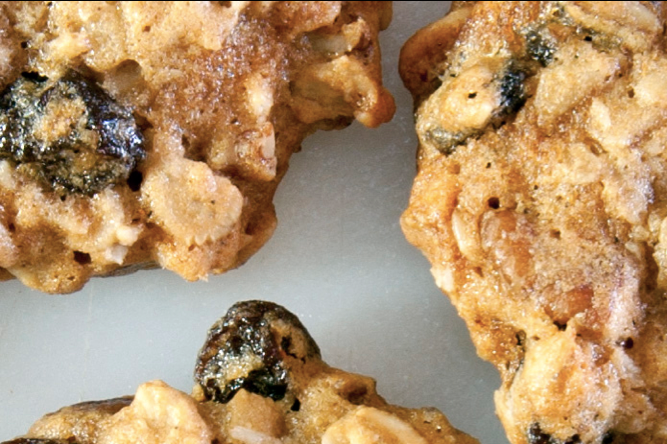 by Colleen Lanier
When words fail, I bake cookies. Not just any cookies, mind you. I make Grandma's cookies, ones that fill my kitchen with delicious smells and happy memories. Both of my grandmothers were excellent cooks, the kind who never needed recipes, and while my Dad's mom shared with me the secret to world-class lemon squares, my Mom's mother blessed me with Wheaties cookies.
I can't remember a time when those cookies weren't waiting for me at Grandma's, filling the glass cookie jar with the silver lid. As soon as my family pulled into my grandparents' driveway, my brothers and I raced to the kitchen, scrambling to be the one to open the jar and relish in the smell of the freshly baked cookies. They were delicious, and immediately made me feel at home.
Shortly after I graduated from high school, I spent a week with my grandmother. The visit started out sadly, because my grandfather, her husband, had recently died. It was my first real experience with death, and I felt awkward, not knowing what she needed. I wasn't sure what to say, how to comfort her, or what to do. Shared tears and a few long hugs melted away much of the awkwardness, and it turned out that all she really wanted or needed was my company. As much as I needed hers.
Our days were filled with errands, playing board games, and cleaning the house. We emptied the contents of her china hutch onto the dining room table, and as we dusted each item I learned its history. In one afternoon I learned more about my grandmother than I had in the previous 17 years. On the third day of my visit, the cookie jar ran dry, and I decided it was time I learned how to bake her cookies.
"Grandma, could you show me how to make your cookies? I would love to have the recipe."
She smiled. "I don't use a recipe. I just throw it all together like my mother did."
"But if you let me measure everything, I would have the recipe, right? That way I could make them for you."
She smiled again. "There's more than one kind of cookie, Colleen. Cookbooks are full of recipes."
"But none of them are as good as yours, Grandma. I want to learn how to make your cookies."
"We'll need coconut and Wheaties, but okay. We'll give it a try."
I don't think she enjoyed the experience nearly as much as I did. With each ingredient, I asked her to pour it onto a paper plate so I could measure it. By the time we got to oatmeal, I was testing her patience, but we got through it, and I had the recipe for Grandma's Wheaties cookies. As far as I know, I am the only one who has it.
My grandmother died in 1987, when I was 23 years old. I spoke at her funeral, and talked about spending time with her in her kitchen. When I mentioned the glass cookie jar, I saw smiles cross the faces of my brothers, sister and cousins. We all remembered how special it made us feel to know that jar was always waiting for us.
A few weeks after my grandmother's funeral, I was in the grocery store, looking for my favorite cereal. I saw a box of Wheaties and found myself missing her so much that I started crying in the aisle. I reached for the box, and started collecting everything else I would need: coconut, oatmeal, vanilla, butter, eggs, sugar, brown sugar, flour, salt, baking soda and baking powder. I bought it all.
I went home and made my grandmother's cookies. I could hear her voice as I added each ingredient, taking care not to crush the Wheaties into dust, and pulling them out of the oven "right before the edges turn gold." I poured myself a glass of milk, sat at my kitchen table, and enjoyed my Grandma's cookies. I felt her presence, and it lessened the pain of her absence.
It has been more than 30 years since I learned to make those cookies, and I have made countless batches. I have given them to celebrate new jobs, as housewarming gifts, for birthdays and anniversaries, and, on occasion, to say I'm sorry. I have put them in the lunchboxes of people I loved, mailed them to friends who needed a little pick-me-up, and offered them with my condolences. I make them when I am sad, and when I just want to show someone that I care.
Words may sometimes fail, but in my experience cookies never do. There's a reason for that, and it is found in the one ingredient I couldn't measure so many years ago in my grandmother's kitchen.
"That's it, Grandma? Twelve ingredients?"
"No. The last one is the most important." Grandma picked up a fork and flattened the cookie dough onto the baking sheet, creating a crisscross pattern on each cookie. She slid the pan into the oven, and hugged me, whispering into my ear.
"Love. The most important ingredient is love. Make sure you never leave that out, because it makes all the difference in the world."
You see, they weren't just cookies. They were an expression of love that gave a sense of comfort and home. They still do, and whenever I find myself in a position where I am not sure what to say, what to do, or how to comfort someone, I say it with cookies.
It always seems to work, because a gesture from the heart is easily recognized. No matter how different we are, or how difficult the circumstances might be, I believe we all speak cookie. And I hope we always will.
Colleen Lanier is a registered nurse with a private consulting firm, and the author of Miles from Home and The Scenic Route. Both books are available at colleenlanier.com.