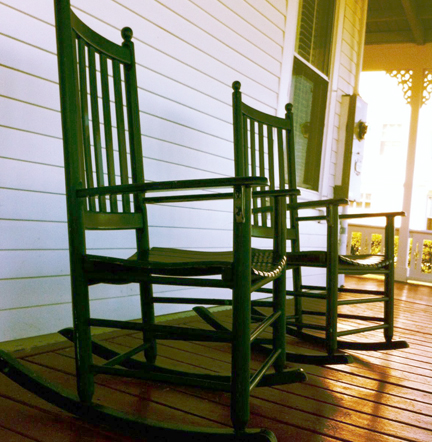 by Joan Blumenfeld, MS, LPC
Sally was a wonderful daughter. When her father, a former mover and shaker, began to decline mentally and her mother became increasingly frantic and depressed, Sally stepped right up to the plate. She offered to build an addition onto her beautiful antique home in Connecticut and move her parents in with her so that she could help take care of her father.
Sally built a stunning new wing onto her house. It had a large, sunny living room, a sweet dining area, a spacious bedroom with full bath, a small kitchen, and a front porch with twin rocking chairs. She built a separate entrance for the new wing so her parents could come and go as they pleased.
Her parents made the move with a mix of excitement, anticipation and trepidation. It was a huge change for them. They sold their 12-room Victorian mansion in Tennessee. They terminated their membership in the country club where they had been at the top of the social ladder for years. They left their church and the community where their children had grown up and where Sally's father had owned a business that employed half the town.
But now Dad was retired and needed care. He was well into mid-stage Alzheimer's disease. He would wander and get lost, he was forgetful and confused, and his decision-making judgment was no longer sound.
It was a compassionate offer Sally had made to her parents, and it seemed like a really good solution to a family problem.
Or was it?
Dad, as pleasant and compliant as he was, really needed to be watched all the time. Mom felt completely deracinated, uprooted from all her support, her friends, and her status in the community that had helped her thrive. No matter how hard she tried to create a new and fulfilling life for herself in Connecticut, it never quite worked. She never felt she belonged. She was constantly lonely and utterly miserable.
Her relationship with her daughter was also faltering. Sally and her husband both worked, and they were raising a toddler as well. Sally did not have the time she had hoped for to look after her parents and help them get settled and established in their new community. And because they were all living up close and personal, there was unexpected friction about how the young parents ought to raise their child and how the elders should live their lives.
In counseling, her mother explored her own issues and contemplated how she really wanted to live at this time of her life. And she came to the conclusion that living in Connecticut was not really working well for any of them.
While she truly appreciated her daughter's yeoman efforts on their behalf, she ultimately decided it would be best if she and Dad moved back to Tennessee. She found a fine Continuing Care Retirement Community very near her hometown, which provided all levels of care from independent living to skilled nursing. She placed her husband in the assisted living facility where he would be safely looked after and took an independent living apartment for herself. She could visit him easily every day.
She rejoined her country club and her church. She reconnected with her friends who welcomed her back with open arms.  When we last spoke, she was very content with her decision.
Sally was naturally disappointed that things had not worked out as planned, but, frankly, she was somewhat relieved. She knew in her heart of hearts that she had done everything possible to ease the way for her father and her mother, but it just wasn't meant to be.
Pearl of wisdom: Moving closer to adult children is sometimes a good solution for the care of elderly parents, but sometimes it's not. Don't rush to make such a move even when it looks tempting. Take time to consider it from every angle. What is to be gained? What is to be lost? What problems are likely to be solved by the move? What new problems might it create? Most importantly, this is not a time for beating around the bush by any of the parties involved. It is a time for open, honest communication and hard conversations.
Joan Blumenfeld, MS, LPC, is a Geriatric Care Manager practicing in Fairfield County, CT. For information visit www.joanblumenfeld.com. © Joan Blumenfeld 2012