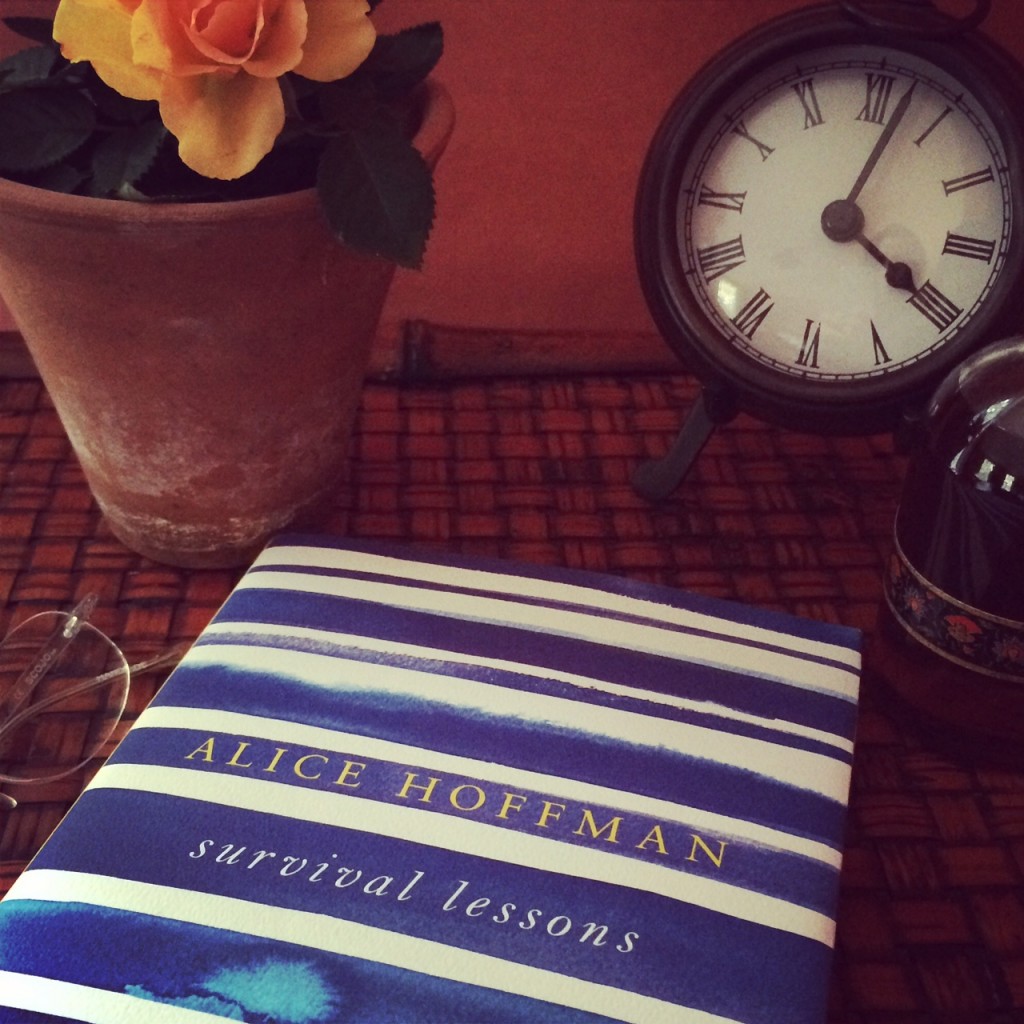 by Kim Keller
"Write your troubles on a slip of paper and burn it."
This is one of the many pieces of advice from bestselling author Alice Hoffman, in her new little gem of a book called Survival Lessons. I keep this book, filled with Hoffman's words of wisdom, right next to my bed. In fact, after reading Survival Lessons for the first time, I bought extra copies to give to all my friends. If I could afford to buy this book for every person in the In Care of Dad community, I would — it's that good!
But, since I can't afford thousands of copies, I'll just tell you about it instead.
Best known for her two novels, Practical Magic and Here On Earth, Hoffman said she wrote the non-fiction Survival Lessons because it's a book she wished she'd had when she was faced with a breast cancer diagnosis more than 15 years ago. Devastated by the news and overwhelmed by the prospects of the treatment process, Hoffman explained that she went "looking for a guidebook. I needed to know how people survived trauma."
"It happens to everyone," she said, "in one way or another, sooner or later. The loss of a loved one, a divorce, heartbreak, a child set on the wrong path, a bad diagnosis. When it comes to sorrow, no one is immune."
Hoffman never did find that guidebook she was looking for, but, after surviving many of life's challenges, she decided that she finally knew what the guidebook should say. And, as the author of some 30 books, who better to create this much-needed volume? She set out to write the book she had needed those many years before, a book that she herself would want to read if she were ever again faced with a devastating life challenge.
Survival Lessons, published last year, was the result.
The book is broken down into bite-sized chapters, each with an empowering preface, starting with "Choose," as in Choose Whose Advice You Take, Choose How You Spend Your Time, Choose To Love Who You Are. Although there are so many circumstances in our lives that we have no control over, Hoffman helps us remember that we have the power to choose how we approach those challenges.
The book is also chock full of illustrations and tiny bits of poetry, and even offers a few important extras, like a brownie recipe that Hoffman claims will make you "forget your sorrows." Survival Lessons is compact and easy to finish in one sitting, which is important when you're feeling truly lost. Not only are the words valuable, but so is the act of completion. Finishing a book makes us all feel that we've accomplished something, and that we have the potential to accomplish more.
The reason I keep this book by my bed is to help me remember not to get so caught up in life's many inherent difficulties. I must remember that I have choices. And throughout the book, Hoffman points out that life still goes on all around you and you shouldn't let yourself miss one minute of it. She reminds us that even "in the darkest hour the roses still bloom, the stars still come out at night."
Her advice is simple, really. Don't be afraid to be who you are, be kind to yourself, and don't forget to enjoy what's fun about the world, like eating chocolate, making art, watching Bill Murray movies, reading Wuthering Heights, singing Beatles songs and taking a nap.
Hoffman wants us to remember that life is a process. Along those lines, she includes instructions for knitting a cap, because she believes that knitting — with its constant ripping out and starting over — teaches us to respect the process of life. "The process," she says, "is what can bring you the most joy."
Kim Keller is the Co-Founder of In Care of Dad. She lives and works in New York City.
photo by Karen Keller Capuciati.