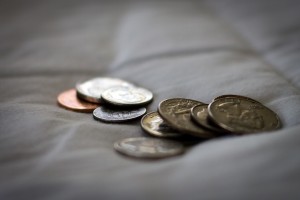 by Kim Keller
When our father became critically ill, Karen and I were forced to become actively involved in our parents' finances. It became painfully apparent that there was real potential for financial ruin if we didn't develop a program to deal with Dad's mounting medical bills, for which there was no end in sight.
The sudden depletion of Dad's hospitalization coverage, reported to us by the hospital business office some 16 days after the fact, was our startling wake-up call. Prior to that notice, we had absolutely no idea that Medicare could run out. We were taken completely off-guard. The situation could not have been more stressful or more dire. We needed a short-term solution and a long-term plan, and we had to find them both in a hurry.
Sadly, the long-term plan was rendered unnecessary when Dad died, just a few months after the onset of financial complications. Money should be the last thing on your mind when someone you love is so very sick, but it pained us, having to spend our time solving the financial burden when we wanted to be comforting our father all the time.
A lesson learned: Have a plan before you need a plan.
In September 2009, three years after our father had passed away, our mom had a stroke. Right after the stroke, Mom had to relearn how to read, write and do simple math. Although she doesn't need our day-to-day help with her finances anymore, we did need to step in for the first year or so. As a result, we now have systems in place to make everything work smoothly.
Here are ten tips and tools to help you build a financial plan.
Collect Financial Information — This is the best place to start because every other decision will hinge on what you find here. Create a list of all income and all assets, like the house, a car, savings, investments, etc.  If money is owed on any of these assets, such as mortgage on a house, you'll need to find out how much is left to pay on it, and how much the house is worth. Next, create a list of regular expenses, like the mortgage/rent, utilities, car payments, medications, etc. It's important to keep all this information current and in one easily accessible place.
Keep Account Information — For each account (mortgage, utilities, credit cards, and so on) we made a list of essential information, including account numbers and contact info. We also keep our mom's social security number with that list. We compiled this information right after mom's stroke, and it was invaluable to all of us during her months of recovery.
Direct Deposits and Payments — We set up direct deposit for our mom's income and direct payment for her expenses. Wherever we could have bills sent electronically, we set that up, too. This creates peace of mind, especially for Mom. Having her bills online has allowed us to easily assist her.
Health Insurance Coverage — If your loved one is 65 or older, chances are he or she is covered by Medicare, which is a government health-insurance program. I found Medicare's booklet, Medicare & You, to be a wonderful resource. It's an easy-to-read guide that includes a summary of Medicare benefits, rights and protections, and answers to the frequently asked questions (FAQs) about Medicare. Another thing to keep in mind: if your loved one was a veteran, there are all kinds of benefits available. To find out more about veteran's benefits, call 800-827-1000.
Supplemental Insurance Coverage — It's important to know whether or not your loved one has a supplemental health insurance plan, known as gap insurance. Medicare doesn't usually cover 100% of medical costs. Therefore, many people purchase gap insurance, which is also referred to as a Medigap policy. Our parents' AARP Medigap policy generally worked like this: if Medicare paid 80% of a medical bill, then the gap insurance paid the other 20%. If Medicare covered 20% of the cost, then the gap insurance paid the other 80%. Good deal, right? Ah, but here's the rub: if Medicare doesn't pay at all, then neither does the Medigap insurance. If you want to explore buying a policy, check out the Medicare booklet, Choosing a Medigap Policy: A Guide to Health Insurance for People with Medicare. You can also locate various local plans at Medicare.gov. These plans are purchased through private insurance companies. (Note: Those with Medicare Part C — the Medicare Advantage Plan — cannot use Medigap insurance.)
Understand Medicare's Coverage — Medicare's Coverage Database is a wonderful resource that will quickly tell you what costs Medicare will cover and what costs it won't. You'll receive guidelines outlining the requirements for coverage, such as whether a doctor needs to approve the treatment, what percentage of the bill you'll be responsible for, and who else you can contact for additional information. The database explains the coverage situation for items such as hearing aids and wheelchairs; for tests like mammograms and blood screenings; and for services like surgery and emergency room visits. It is a thorough database with easily accessible information.
Long-Term Care Coverage — Find out if your loved one has a long-term care plan. If so, read the plan carefully. Find out when the plan begins, what it covers, and the period of coverage. Medicare generally does not cover the cost of long-term care. There may be some exceptions to that general rule: for example, if your loved one is part of a Medicare Part C/Medicare Advantage Plan, which works like an HMO or PPO, that plan may well have an arrangement with a long-term care facility. It's worth checking into.
Reach Out For Advice — Reaching out to qualified professionals was invaluable for us. We consulted with an eldercare lawyer, an accountant, and a financial planner. Our concerns were twofold: our father was critically ill and would likely need expensive long-term care, but we also tried to be mindful of mom's financial security. We didn't want her losing the house. As you can imagine, we had lots of questions, and these discussions provided us with clarity and some options.
Understand The Cost Of Care — A guide we like is the Genworth's Cost of Care Survey. The state-by-state survey reports on the median costs of Homemakers, Home Health Aides, Adult Day Care, Assisted Living Care, and Nursing Home Care.
Durable Power Of Attorney — Don't wait on this one. Creating a durable power of attorney allows a trusted person or persons to handle your loved one's personal business affairs, from banking to investments to real estate, and anything else that might pop up. A "durable" power of attorney is preferable to a standard power of attorney because it's set up specifically to deal with the possibility of your loved one's becoming disabled or incapacitated.
These are hard questions, we know, but it's better to handle them sooner rather than later. Try to talk about financial issues early on, and seek advise before you are in the middle of a crisis. If your loved one is resistant to your having all of this financial information, then at least encourage him or her to get organized and have a plan ready in case you or someone else needs to step in. It's key to talk early and often about financial plans for the future.
Kim Keller is the Co-Founder of In Care of Dad.  She lives and works in New York City.  
The photo titled "Coins" was taken by Andrew Horowitz.