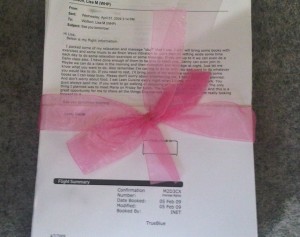 by Lisa Wolfson
When I was diagnosed with breast cancer in 2008, I was overwhelmed.  Having a big family scattered in several states and other close friends all wanting to know what was going on with me, I had to find a way to stay connected with everyone.
I started what became known as The Cancer Diaries.  I created an email group of my family and close friends and sent them updates of my doctor's visits, my surgical procedures, and even my chemo treatment schedule.  Family members and friends responded with help of every kind, love, warm wishes, even letting me know to which treatments they would be available to accompany me.
What started as a vehicle to keep everyone informed soon blossomed into a deep connection with loved ones.  I sent emails expressing how I felt at the time, things I was doing to prepare, experiences I had.  I asked for help finding natural hair color, false eyelashes as mine began to fall out, etc.  I shared dreams I had at night and the revelations they provided.  And there wasn't any fear of miscommunication since everyone was getting the same facts from the same source at the same time.
The recipients of my emails responded in kind, expressing support and love, saying things they may not have otherwise shared.  The character of the correspondence was open and giving and often revelatory.  In the days before my surgery, I sent out emails asking everyone to be there for my husband and son through the days and weeks ahead — I don't think I could have written this anywhere but in The Cancer Diaries.
I received responses from my nieces and nephews that warmed my heart and helped me find the strength to move forward.  I realized that The Cancer Diaries had grown into something therapeutic for me.  It was a way for me to freely express my emotions, my fears, my pain, all without judgment, while providing my loved ones with a way to stay involved.  It allowed all of us to face our fear of this disease together and never to be alone.
It also opened the door for those around me to communicate with each other and to express the thoughts and feelings they couldn't say directly to me at the time.  Having my nephew write, "I should be able to handle this, but I can't hear the word cancer without getting tears in my eyes" showed me the impact my journey was having on everyone around me.  It was our journey now, and The Cancer Diaries became our fight song.

The Cancer Diaries were my strength when I needed it the most.  When I finished my treatments, I wrote a final email about the long journey through breast cancer and how my life has been changed forever.  I thanked everyone for their love and support.  And while The Cancer Diaries were coming to an end, I realized how much the email group had grown in both size and strength.  Several people forwarded that final email to other people outside the original group, and once again the number of people touched by our correspondence expanded.
Sharing my feelings and experiences throughout the odyssey truly made a monumental difference in how I fared.  I released my emotions in a loving environment, had constant support without being smothered, and gave those closest to me a vehicle for saying things that may have otherwise been left unsaid.  I saved every correspondence and have them safe and sound in a keepsake box.  I reflect back on these emails often and I hope to turn them into a book some day.

The Cancer Diaries were such a powerful tool that I continued the tradition after my treatments ended, changing the name to Beyond the Cancer Diaries.  The email group has grown tremendously.  I now send out helpful hints, healthy recipes, and inspirational quotes and thoughts.  Members of the group still respond in kind, sending back their own helpful and inspirational thoughts and pictures, which I disseminate to the entire group.
And we all stay connected.
Lisa Wolfson lives in Rockville Centre, New York, and volunteers at You Can Thrive!, an organization that provides free and low-cost support services for breast cancer survivors.