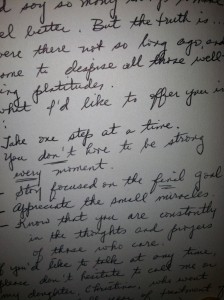 October is Breast Cancer Awareness Month, so we at In Care of Dad proudly rerun this invaluable blog by breast cancer survivor Christine Taylor detailing the love, support and inspiration she received during her treatment and in the many years since.
by Christine Taylor
The first anniversary of my cancer diagnosis has arrived, and I now find myself having thoughts like "One year ago today I got the phone call" and "One year ago today I met my surgeon."
I vividly remember the panic and fear I experienced back then. A year ago, my world was spinning faster than it had ever spun before, and I stood frozen in the middle. Now, a whole year later, I'm feeling healthy and stronger than I ever have. The entire experience has taught me about perspective.
In the midst of the swirling chaos that my life became last year, I also received the biggest outpouring of love and support I have ever experienced. All of the cards and sentiments people passed along were beautiful and I cherish them all, but there is one that stands out and has served me well as a tool for getting through the toughest times.
Given to me by my mother's friend, writing from her own experience — her daughter underwent cancer treatment just a few years earlier — it is a simple and beautifully written, heartfelt message.
Here's an excerpt:
"I could say so many things to make you feel better. But, the truth is, we were there not so long ago, and we came to despise all those well-meaning platitudes. So what I'd like to offer you is this:
Take one step at a time.
You don't have to be strong every moment.
Stay focused on the final goal.
Appreciate the small miracles.
Know that you are constantly in the thoughts and prayers of those who care."
One of the things I love about this card is that the tips are applicable to everyone, whether you're a patient, a caregiver or an observer who wants to help but feels helpless. The goal does seem far away. You may not even be able to see the goal through the tasks that lie ahead. And it's easy to feel defeated before the game is even over.
I used to read this card periodically as I was going through treatment, whenever I needed a lift. These simple tips helped me when I felt scared or depressed. It was nice to be reminded that people had done this before, regained their health and their strength, and that the devastating situation I faced was potentially temporary.
And, as it turns out, it was temporary. As I write this, I am stronger than ever in my body and my mind. It's remarkable to look back at how I did what I feared I couldn't do — the unbelievable rollercoaster of the first month, the surgeries, being bald and sick, losing so much of myself . . . then watching, in amazement, the rebirth of my entire being.
So, next time someone you know receives a serious diagnosis, and you're not sure what to say, just speak from your heart. You may never know how truly valuable your words are.
Christine Taylor is a holistic health counselor and health educator.  She lives in Hampton Bays, New York.