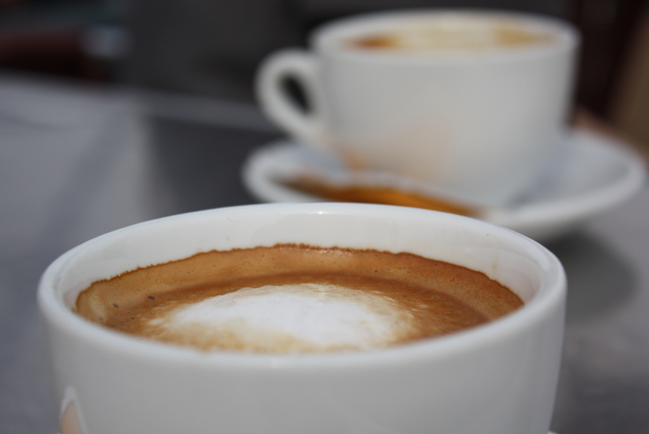 by Karen Keller Capuciati
Charlotte and Cati were the least likely of friends. Charlotte, a therapist for a rape crisis center, is straightforward and serious by nature. Cati, a former athlete who has worked as a prominent international tennis judge, is extremely upbeat and quick to laugh.
They met at a café five and a half years ago and, despite their disparate personalities, they quickly became close friends and great support for one another. They would get together a couple times a week for coffee or to walk their dogs. They got to know each so well that they would sometimes finish each other's sentences.
There was this one thing they had in common — both had been diagnosed with Alzheimer's disease.
They might never have met if it weren't for the Alzheimer's Café they started visiting along with their caregiving husbands.
What is an Alzheimer's Café?
The Alzheimer's Café is a regular get-together organized in many towns for those with dementia and their caregivers, as an opportunity for all of them to get out of the house and into a social setting. It is an opportunity to relax and socialize in an environment that is both supportive and non-judgmental. They take place at public venues that have donated their space during their closed hours. For example, it might be at a luncheonette from 4 to 6 pm on the first Monday of each month or at a children's museum cafeteria from 5 to 7pm (when it's closed to the public) one Wednesday a month.
According to alzheimerscafe.com, the café concept was started in The Netherlands by the psychiatrist Bere Miesen in 1997. The idea took off and attendance at these cafés grew exponentially. Jytte Lokvig, Ph.D, introduced the Alzheimer's Café concept to the U.S. in Santa Fe, NM, in 2008. And now there are well over a hundred and fifty cafés throughout the U.S., as well as in most developed countries around the globe.
European model and American model
There are two types of cafés: the European and the American models. In Europe, many of the cafés have speakers who present or lead discussions on relevant topics. It might be a nutritionist, therapist or eldercare lawyer, for example. The presentation and discussion become the backdrop for a social occasion. The format that Lokvig established here in America does not include speakers, so the cafés focus more on socialization. While there is, of course, a natural tendency to talk about their shared experiences, it is not set up as a formal support group. "It's just like having a party," Lovkig explained.
"People can just relax and have fun," she said. "I don't have an agenda. I come prepared for anything. I have snacks, songbooks and crafts in my car. Often someone will bring a guitar and we'll sing along."
"The Alzheimer's Café is so healthy for both caregivers and the person with the disease. The caregiver can have the opportunity to relax and have some time to not think about the disease. They can make connections with other caregivers — talk with one another and share ideas."
Finding an Alzheimer's Café
Right now there are both European and American style cafés in the U.S. To find one in your area, check this listing by state at alzheimerscafe.com.
Starting your own Alzheimer's Café
If there are no cafés in your area, you might consider starting one of your own. According to Lokvig, "it is the simplest thing you can do. It doesn't have to cost a penny. The hardest part is finding a place to have it." And, really, all you have to do is ask.
Places to consider are luncheonettes or coffee shops that could be used after their business hours. Other cafés have been set up at churches, senior centers or in function rooms at senior housing. All cafés are not-for-profit and are provided space free of rent.
At most cafés, snacks are provided by the venue or a generous local business, or donations could be requested by participants to cover costs. Lokvig, who buys a bunch of snacks for the Santa Fe café, says it isn't a big out-of-pocket expense.
Importantly, you do need someone in charge. It should be someone who has experience dealing with dementia/AD so they know how to handle situations as they arise. Lokvig recalled a story about a husband with dementia who would pace around and around the room. "If you are not familiar with the situation," she explained, "you might try to get him to sit down, but that would likely make him more agitated. This is when a leader can gently step in and suggest to the caregiver that they don't need to correct his behavior."
"Having two people running the program is even better, " Lokvig said, "in order to share the burden. To me, it is really rewarding.
"Over the years I have seen friendships blossom — among caregivers, but also with people with the disease like Charlotte and Cati (whom Lokvig introduced to one another). Because of the café, they have gotten together and supported one another into the advanced stages of the disease."
Charlotte and Cati have recently moved into the same facility and they are reportedly having much fun together.
Karen Keller Capuciati is the Co-Founder of In Care of Dad.
Photo by Martin Fisch on Flickr.