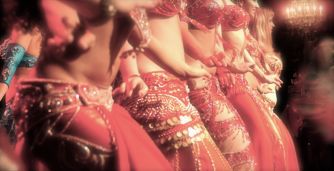 by Kim Keller
"We are a troupe of belly dancers!" Mary Lou enthusiastically explained to the waitress at Ruby Tuesday's, who was curious about this large group of fun-loving, older women at her table. "And she," Mary Lou said, pointed to my mother, "is our leader!"
The women all burst into laughter.
My mother, I assure you, is not the leader of any belly-dancing troupe. Rather, she is one of 12 girlfriends, all widows, who have banded together in friendship and support.
And together, they've found a way to laugh again.
It warms my heart. For so many years my mom was barely hanging on. She and my dad had moved in 1998 from our family's home on the Connecticut shoreline, where Karen and I grew up, to The Villages, Florida, about an hour north of Orlando. Not one to easily embrace change, my mom was filled with trepidation over leaving behind her home of 30 years, her friends, her church and her grown kids. My dad, on the other hand, was overjoyed by the prospect of endless sunshine and golf.
Luckily, it didn't take long for Mom to discover and appreciate the benefits of their new environment, and they quickly made friends with other residents who shared their enjoyment of retired life.
For a while my parents were happy and flourishing. That is, until my father's health started to give way just a few short years later. Their dream of a golden retirement was shattered.
That's when my mom became a full-time caregiver. No doubt a labor of love, but also a responsibility filled with sadness, uncertainty, exhaustion and stress. Eventually she landed in the hospital herself, with high blood pressure due to all the strain.
I remember a couple of Mom's girlfriends from those days — a small group that formed the foundation of the "belly dancers." They were always there for her to lean on — running errands, offering hugs, cooking dinners or just pouring glasses of wine. They already knew about the strains of caregiving.
My dad died in the summer of 2006, and those same women were there for my mom throughout, helping her navigate the anguish of her grief. They knew all about my mother's pain. They had been there too.
Over the years, new women have been welcomed into the circle. Women well acquainted with caregiving and grief.
It's taken a long time for my mother to heal from the loss of her husband, my father. These women, all at various stages in their own grieving, have provided the motivation to keep my mother moving forward with her life. They're dinner companions, they check out the latest movies together, they play cards, they drop over for a cup of coffee. And, most importantly, they all laugh together.
Transitions are difficult for all of us, but my mother and her friends have shown me the distinct significance of friendships during delicate life passages, such as grieving and caregiving and dealing with personal health issues.
As I get older, and think about what I want my retirement life to look like, I know this for sure: I need to be in a place where I'll have a community of support like my mom has now. I've learned that proximity is key — most of my mom's closest friends live next door or just down the street. Watching Mom and the friends she has made in her Florida years has encouraged me to surround myself with people I can lean on, people who can lean on me, people who will keep me moving forward, even during the dark periods of my life.
And, most importantly, people who will make me laugh.
Kim Keller is the Co-Founder of In Care of Dad. She lives and works in New York City.