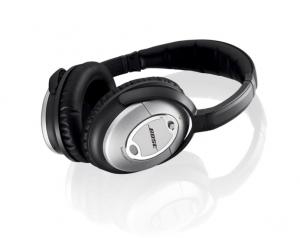 An In Care of Dad Series
by Karen Keller Capuciati
Noise-canceling headphones have become popular with people who fly a lot — they're a luxurious upgrade over the airline-issued variety.  They're comfortable and block out the background airplane noise so you can actually hear the movie.
When our father was in and out of the hospital and rehabilitation centers, we bought him the Bose noise-canceling headphones to enhance his comfort level in two ways.  Our initial objective was to provide him the pleasure of his favorite CDs — Dad loved all types of music, from Patsy Cline and Neil Diamond to the Three Tenors.  But we especially wanted to provide him some peace and quiet from the constant noise that fills every medical facility — the beeps, alarms, pages, incessant hallway chatter, as well as the often-too-loud TV that his roommate would watch.
The Bose headphones can be used with just the noise-canceling function or to actively deliver other sounds.  They do not cancel out all the sounds around you, but they do significantly reduce ambient noise.  This feature also allows the music to be heard more clearly without it having to be too loud.
The headphones come in the traditional full-sized version or as earbuds.  My opinion is that the full-sized headphones are more comfortable and less likely to get lost.  The latest model is the Bose Q15, which cost $300 on Amazon.  You can, of course, save money by purchasing earlier models.
For more great gift ideas for someone who is bed-bound at home or currently in the hospital, click here.  Let us know if you have any gift ideas.  We would love to share that information with all our readers.
Tags: gift ideas, hospital gifts, noise-canceling headphones