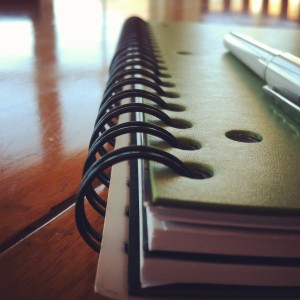 Last of a Four-Part Series on a Basic Approach to Caregiving
by Kim Keller
An important part of caregiving is keeping all the information organized. Creating a workable system makes caregiving a little less stressful, and it will also help you to maintain a more effective and consistent level of care for your parent or other loved one.
Our memory is never at its sharpest when we're under a great deal of stress. So don't go anywhere without a notebook (an electronic notebook, if you'd prefer) to keep track of all those little details that crop up during the day and to always have your indispensable to-do list at your fingertips. Also, use a calendar to track doctors' appointments, in-home care schedules, treatment routines, etc.
For the information that you'll need to reference most often, it's a good idea to have it all pulled together in one place. I prefer a three-ring binder but you can use whatever method you like — the key is just to have the information culled and collated, kept together and always within reach. Here is some of the information you should keep current at all times for your parent or other loved one, with examples in the accompanying parentheses:
1. Medication List — An updated list of all prescription medications, over-the-counter meds, vitamins and other supplements. Include dosage size, dosing instructions (take two tablets with food in the morning), reason for the medication (high-blood pressure), and any known allergies to other meds and substances. Keep this list up-to-date and have extra copies to hand out to every medical professional you engage in the care of your parent or loved one.
2. Medical History — Include such info as date of birth; medical conditions and relevant dates (stroke, 9/09); surgeries and other hospital stays (pacemaker inserted 12/99); medical tests and procedures; pertinent family medical history (father had type-2 diabetes); and other useful information such as she has never smoked, she wears dentures, she uses a hearing aid, etc.
3. Contact Information — Keep contact information. Include all doctors, all other relevant regular care providers (nurses aide, physical therapist, companion), pharmacists, friends, neighbors – again, anyone engaged in the care of your parent or loved one, even outside the circle of medical personnel. Another good idea is to buy a business card holder for the binder because you're likely to collect many such cards and it's better to have them handy.
4. Questions for the Doctor — Plan ahead for doctor's visits by focusing your needs and concerns. Keep a running list of questions so you don't forget to ask something or get sidetracked by some doctor's haste or distraction.
5. Notes from Doctor's Appointments — Taking notes during doctor's visits is key. It's often hard to remember all of the information and the instructions after the appointment, and sometimes you need to write down the precise medical terminology your doctor uses in order to seek clarification from other medical professionals and thus get the clearest interpretation of your parent's condition.
6. Account Information — Keep a list of all account numbers and contact information for insurances, utilities, mortgage/rent, credit cards, banks, cable, phone, car, etc. It's also a good idea to keep the Social Security number, and, in addition, the password information for all relevant accounts.
7. Unpaid Bills — If you are paying the bills, keep the checkbook, unpaid bills and stamps in a pocket of the binder.
8. Facilitating the Follow-Up — Use one of the pockets in the binder to keep handy anything that you need to follow up on, like a medical bill, for example.
9. Tax Information — Many medical expenses are tax deductible, so keeping a list of these expenses as they're incurred makes tax time a little easier.
10. To make the binder a bit easier to navigate, it's helpful to have labeled tabs for each section. We've also created templates for many of these lists, so please take a look at the In Care of Dad section called Checklists & More.
All other information that is necessary, but not needed regularly, can be kept in label folders in a file drawer or box (or whatever works for you). Here are some of the types of documents you'll need to gather:
1. Health insurance information.
2. Long-term care insurance, if applicable.
3. Financial information —  To get an idea of what you might need, please take a look at our "Ten Tips For Financial Planning."
4. Legal Documents — You must keep copies of documents like the Durable Power of Attorney, the Living Will and Other Advanced Directives, and the Healthcare Proxy.
A fire-proof box is essential for storing critical documents like Last Will and Testaments, Durable Powers of Attorney, Living Wills and any other Advanced Directives, healthcare proxies, life insurance policies, birth certificates, passports, etc.
We also keep key emergency information on the front of our mother's refrigerator door, and we post a bright sticker in her front-door window to let Emergency Medical Technicians know where they can find her vital medical information in case of emergency. Take a moment to review the In Care of Dad article called "Vial Of Life."
To make caregiving a little less stressful and overwhelming, it's essential to be organized, share as many responsibilities as you can with other people, and keep the lines of communication flowing amongst everyone involved. Take a deep breath and stay strong. It may not be the easiest time of your life but it will be among the most fulfilling.
Kim Keller is the Co-Founder of In Care of Dad. She lives and works in New York City.