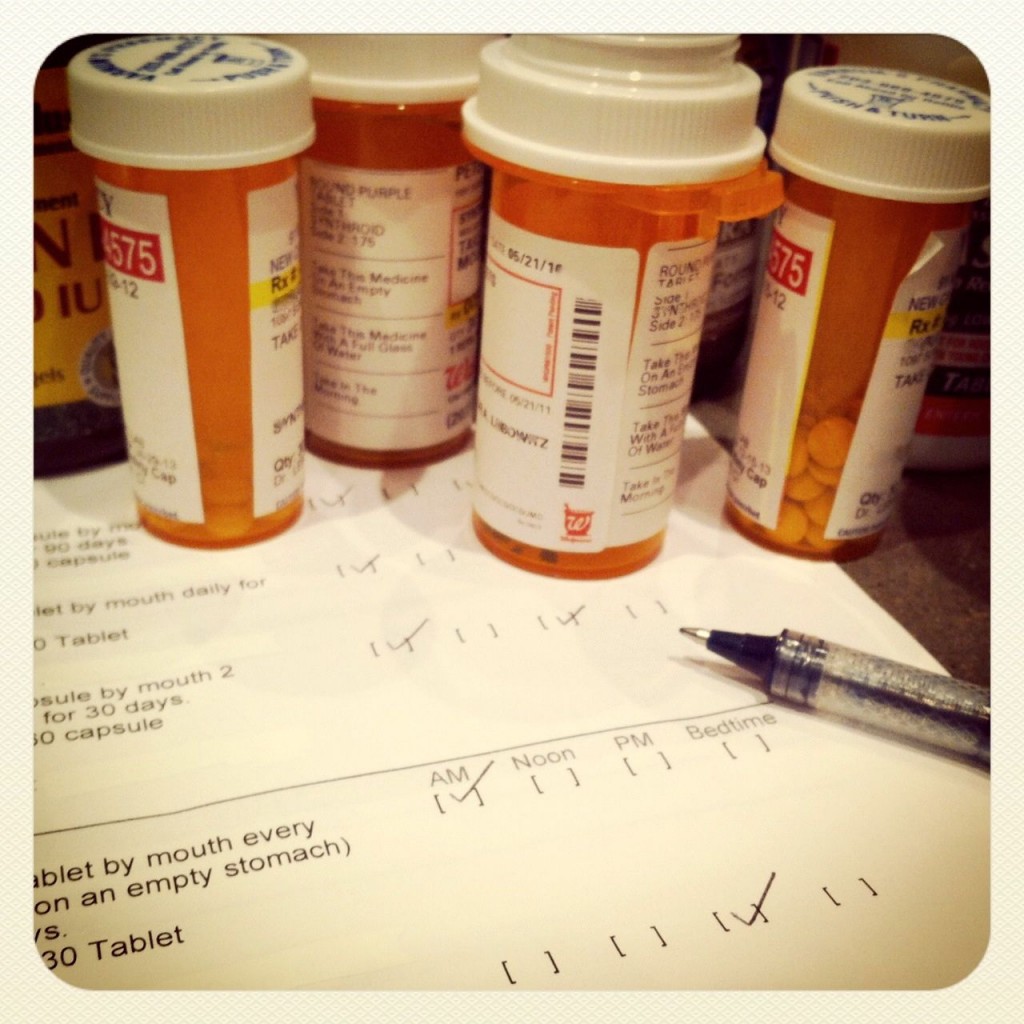 by Kim Keller
"Nearly one-fifth of Medicare beneficiaries — roughly 2 million beneficiaries per year — discharged from a hospital return within 30 days," according to the Medicare Payment Advisory commission.
That's a frightening, and preventable, statistic. One major factor is poor discharge planning. The process is often rushed and slapdash, and fails to protect patients from relapsing and winding up back in the hospital.
That's why Karen and I felt pretty fortunate that our mom's recent stay at Shands Cancer Hospital at the University of Florida in Gainesville was professional from top to bottom, with a well-considered discharge process.
It's critical to get this step right. So, whether your own local hospital does this well or not, it's a good idea to have a discharge checklist ready when you find yourself in this position. Here's the one we rely on:
1. Medications: Review any changes to your parent's or loved one's medication list that was developed during the hospital stay by comparing it with the one they brought with them into the hospital. It's extremely common to have medications change during a hospital stay — original medications can be dropped and new medications might be added. Some changes are meant to be permanent, while others are not. You need to know the difference. It is also critical to understand why each new medication was prescribed, and/or why an original medication was dropped. For example, our mom was prescribed a diuretic during her hospital stay because of fluids that had built up in her lungs. But the diuretic was a temporary addition to Mom's medication list, not meant to be carried forward upon her discharge. It's vital to stay on top of such medication changes. Here's our list of other important medication questions to ask the medical staff before you leave the hospital.
2. Medical Record: Ensure that a complete copy of the hospital medical record has been sent to the appropriate primary-care doctor and any other key specialist(s). For instance, we arranged to have Mom's cardiologist, who was not affiliated with Shands, get a copy of her hospital medical record because there were cardiac issues that arose during her stay that affected Mom's original medication list. You should also get a copy of the medical record yourself, as Karen and I did, to help avoid communication gaps and potential medical errors with future medical teams. But beware: getting a copy of the medical record is not as easy as it should be. Here's a tip: It may be easier to ask the primary care doctor, rather than the hospital. When we requested a copy of Mom's record from Shands, they told us it would cost $1.50 a page, for a document well over 100 pages (yikes!) and would take three weeks. On the other hand, the office of the primary-care doctor only charged us $1.00 a page (still steep) but delivered the record in two days. I imagine that hospitals are wary of potential lawsuits if someone is given the opportunity to scrutinize the record. But this is an invaluable communication tool, and a hospital patient has every right to a record of what he or she has been through.
3. Equipment: Think through what types of special equipment your loved one might need at home. For example, does he or she need a shower chair? A walker or wheelchair? A hospital bed? Railings on the stairs or in the bathroom? How about oxygen? Find out who places the order and who pays for the equipment. If your loved one is on Medicare, then check here to find out if Medicare covers the expense. You'll also want to find out how the equipment will be delivered and/or installed. A good safety tip here is an emergency-call button service with two-way communication capability.
4. Transportation: Start with who is going to be responsible for getting your loved one home from the hospital. Then consider who will: pick up prescription medications from the drug store; take your loved one to doctor appointments; go grocery shopping, etc. If family or friends cannot do this, then consider checking in with a local church that has an outreach or volunteer program or contact a local in-home care agency and ask about hiring someone to handle the transportation needs. A local senior center will usually have resource ideas as well.
5. Nursing and Other In-Home Care Services: Review the in-home care agency list that the hospital provides you. In-home care agencies typically have these types of services: nursing care for checking vitals, drawing blood, administering specific medications, wound care; home-health aide care for personal assistance, such as bathing and bathroom assistance; home-care helpers for housekeeping; and companion care for transportation to appointments, visiting, light meal preparation. Medicare will typically pay for a limited amount of some of these in-home care services. To find out exactly what Medicare will pay, check here. You can find out more about in-home care planning at the "Care Options: In-Home Care" section of our In Care of Dad site.
6. Rehabilitation Therapies: Find out if any rehab therapies will be required. Therapy options usually include physical, occupational, and speech. If you are using some type of in-home nursing care service as outlined in Tip #5 above, you can usually arrange therapy through the same service to also take place in your home, especially if recommended by a doctor. In some cases, therapy might be more beneficial in a rehab facility, either on an outpatient or inpatient basis, if a more rigorous therapy regimen is recommended.
7. Follow-Up Doctor Appointments: Find out which doctor appointments need to be arranged, and if any new specialists will be required. Also, find out if there are any necessary follow-up tests, such as x-rays or scans or bloodwork.
8. Special Diet: Ask if there are any new dietary restrictions or advisements. Perhaps a sugar-free diet, or a diet with limited salt intake. Medication can also have an impact on the diet. For example, my mom is on Coumadin, an anti-coagulant, which requires monitoring of one's diet because certain foods may interfere with the drug's effectiveness.
9. Limitations: Ask if there are restrictions of any kind. For example, is exercising allowed? Walking up a flight of stairs? Picking up heavy objects? Going to work? Driving a car?
10. Wound Care: Ask for any specific instructions regarding the care of incisions and wounds. This is often overlooked even though it's extremely important. Is there a daily treatment? Is a nurse required to oversee the care? Is going to a wound treatment center necessary?
As I recently mentioned in these pages, my mom required a visit to rehab in between the hospital stay and heading home because, when Karen and I considered this list above, we realized that Mom would be safer and would heal faster if she went to the hospital's rehab program first. And before Mom left the rehab program, we once again went through the list above. You simply cannot overestimate the need for careful consideration at every step of the process. Planning is your best bet for making a safe and enduring transition from hospital to home.
Kim Keller is the Co-Founder of In Care of Dad. She lives and works in New York City.